Clinton arrives in Indonesia on symbolic visit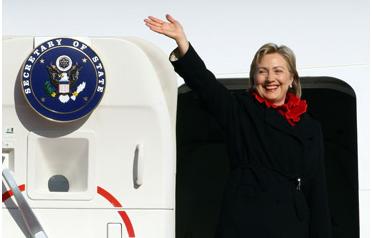 US Secretary of State Hillary Clinton arrives in Indonesia on Wednesday for a symbolic visit to the world's most populous Muslim nation, where President Barack Obama is a popular figure, despite some anti-US protests.
Some rallies by hardline Islamic groups and students opposing Clinton's visit are planned, but this leg of her Asian tour is expected to go smoothly given good government-to-government relations and Indonesian pride in the fact that Obama lived in Jakarta for four years as a child.
Clinton is due to arrive in the Indonesian capital from Japan on Wednesday afternoon, as part of a four-country Asian tour that also takes in South Korea and China.
The US Secretary of State called on Tuesday for coordinated action to revive the global economy at a news conference with Japanese Foreign Minister Hirofumi Nakasone.
Her visit to Indonesia is in line with Obama's desire to forge a better US relationship with the Muslim world, where many of the policies of former president George W Bush's administration, including the 2003 US-led invasion of Iraq, were deeply unpopular.
Indonesia was no exception to that, but Washington aided Jakarta in efforts to quash its own domestic militants, Bush lifted sanctions on military aid and sales imposed over human rights issues, and there was cooperation in other areas.
However, while most Indonesian Muslims are moderate, the country has a small, radical fringe.
About 100 Indonesians from a hardline group, Hizbut Tahrir,  protested against Clinton's visit outside the US embassy in central Jakarta on Tuesday, some arguing the visit was aimed at dividing Muslims.
A small group of students staged an anti-US rally in the central Javanese city of Yogyakarta, while protests and marches by hardline Islamic groups were also expected in Jakarta.
The police have deployed 2,800 officers in the capital for Clinton's visit.
ASEAN, TRADE ISSUES
Playing on Obama's Indonesian ties, about 50 schoolchildren from the US president's old school, waving US and Indonesian flags, rehearsed two traditional Indonesian folk songs to sing to Clinton when she arrives at an airport in the suburbs of Jakarta.
President Susilo Bambang Yudhoyono, seeking a second term this year, is keen to showcase Indonesia's stability since its transformation from an autocracy under former President Suharto – who was forced to resign in 1998 – to a vibrant democracy.
Clinton is due to meet Foreign Minister Hassan Wirajuda on Wednesday and President Yudhoyono on Thursday. She will also visit the Jakarta-based headquarters of the 10-member Association of Southeast Asian Nations (Asean).
The United States is Indonesia's second-biggest export destination after Japan, but Jakarta is concerned over a slide in exports of commodities such as palm oil, rubber and nickel to developed economies, as well as curbs on textile and shoe exports.
Indonesia also wants a bigger role in world affairs, notably in the Middle East, given its core position in Asean, its population of 226 million, and its location straddling key trade routes.
J Stapleton Roy, a former US ambassador to Indonesia, China and Singapore, said it was "unprecedented" for a new secretary of state to include Southeast Asia on an initial trip along with Japan, South Korea and China.
"It's a very positive sign ... it shows not only is the United States attaching priority to Asia, but it's attaching priority to Northeast Asia and Southeast Asia," Roy told a panel discussion in Jakarta this week. 
Follow Emirates 24|7 on Google News.