Clinton meets Indonesian president ahead of Seoul trip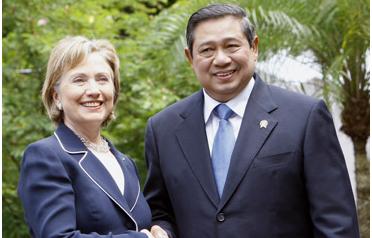 Clinton said on Wednesday she wanted to deepen cooperation with the world's most populous Muslim nation on counterterrorism, climate change and security.
"It is exactly the kind of comprehensive partnership that we believe will drive both democracy and development," she said, adding it was "no accident" Indonesia had been picked for her trip.
Her talks also covered the global financial crisis and Indonesian Foreign Minister Hassan Wirajuda said Jakarta had discussed the possibility of assistance from the United States in the form of a currency swap agreement and possible contingency funding to support Southeast Asia's top economy.
Indonesia is already seeking to extend a $6 billion (Dh22 billion) currency swap arrangement with Japan and has similar deals, each worth $3 billion, with China and South Korea.
Clinton, dressed in a navy-blue jacket, was greeted by President Susilo Bambang Yudhoyono at his office in the white colonial-style presidential palace in Jakarta before the two headed inside for talks.
Yudhoyono, seeking a second term this year, is keen to showcase Indonesia's stability since its transformation from an autocracy under former President Suharto – who was forced to resign in 1998 – to a vibrant democracy.
Clinton has held up Indonesia as proof that modernity and Islam can coexist as she visited the country where US President Barack Obama spent four years as a boy.
NEXT STOP SEOUL
She was due to visit a USAID project in Jakarta before flying out to South Korea later on Thursday as tensions mount on the Korean peninsula.
North Korea has repeatedly threatened in recent weeks to reduce the South to ashes and on Thursday said it was ready for war.
Pyongyang is thought to be readying its longest-range missile for launch in what analysts say is a bid to grab the new US administration's attention and pressure Seoul to ease up on its hard line.
Clinton said in Tokyo on Tuesday at the start of her first foreign trip since taking office that a North Korean missile launch would be "very unhelpful". 
Follow Emirates 24|7 on Google News.
US Secretary of State Hillary Clinton held talks with Indonesia's president on Thursday on a trip aimed at building ties with the Islamic world, before heading to South Korea for talks on the North's military threat.