Desperate Haitians still await aid despite pledges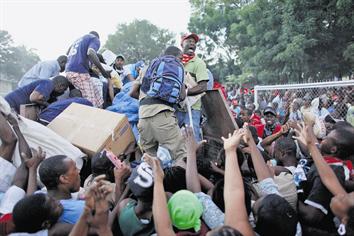 World leaders pledged aid to rebuild a devastated Haiti, but on the streets of its wrecked capital earthquake survivors were still waiting yesterday for the basics: food, water and medicine.

Five days after a 7.0 magnitude quake killed up to 200,000 people, international rescue teams were still finding people alive under the rubble of collapsed buildings in Port-au-Prince.

Hundreds of thousands of hungry Haitians were desperately waiting for help, but logistical logjams kept major relief from reaching most victims, many of them sheltering in makeshift camps on streets strewn with debris and decomposing bodies.

In the widespread absence of authority, looters swarmed over collapsed stores on the city's shattered main commercial boulevard, carrying off T-shirts, bags, toys and anything else they could find. Fighting broke out between groups of looters carrying knives, ice-picks, hammers and rocks. Many others crowded the airport hoping to get on planes that left packed with Haitians.

Heavily armed gang members who once ran Haiti's largest slum, Cite Soleil, like warlords returned with a vengeance after the quake damaged the National Penitentiary allowing 3,000 inmates to break out.

The president of the Inter-American Development Bank, Luis Alberto Moreno, will visit Haiti today and attend a donors meeting in the Dominican Republic to start analysing Haiti's reconstruction needs.


Quake shakes Iran

Two earthquakes which struck in the same area of southwestern Iran yesterday damaged about 150 houses, said an official.

The quakes of magnitude 4.9 and 4.1 respectively occurred near the town of Andimeshk in Khuzestan province, the official Irna news agency reported.

The US Geological Survey initially reported a 5.0 magnitude quake in the area. The two quakes damaged 150 urban and rural residential units, said Shahpour Rostami, a senior provincial official. Southwestern Iran is home to many oil fields.


Tremor in Argentina

An earthquake of 6.3 magnitude struck off the southern coast of Argentina yesterday, the US Geological Survey said.

The quake was centered about 220 miles (354km) southeast of Ushuaia, Argentina, at a depth of 13 miles (21km), USGS said.

It struck at 8.00am local time and 1200GMT.

There were no immediate reports of damage or injuries. No tsunami warnings were issued by the West Coast and Alaska Tsunami Warning Center or the Pacific Tsunami Warning Center.
Keep up with the latest business news from the region with the Emirates Business 24|7 daily newsletter. To subscribe to the newsletter, please click here.
Follow Emirates 24|7 on Google News.