Dozens injured as major quake hits Indonesia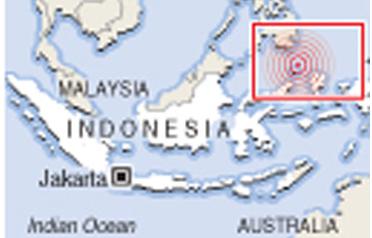 At least 36 people were injured and hundreds of homes and buildings damaged after a major earthquake struck off Indonesia's Sulawesi island near the Philippines early Thursday, officials said.
The 7.2-magnitude quake struck at sea at 1:34am local time (1734 GMT Wednesday), prompting Indonesia's geophysics agency to issue a tsunami alert, which was later revoked.
"Our latest data shows that 36 people have been injured, eight of them seriously," the head of the health office in North Sulawesi province's remote Talaud Islands, Saud Arikalang, told AFP.
"Those eight people have open head wounds from collapsing walls," he said.
"Hundreds of houses in several areas have been damaged as well as office buildings, schools and health clinics," a spokesman for the local administration, Manurat, told Elshinta news radio.
Health Ministry crisis centre head Rustam Pakaya said the quake had caused the partial collapse of the main district hospital, forcing patients to be moved to local health clinics.
The epicentre of the shallow quake was about 320 kilometres (200 miles) northeast of the Indonesian town of Manado and 280 kilometres southeast of General Santos in the Philippines, the US Geological Survey said.
There were no reports of any damage or casualties in the Philippines.
The USGS initially put the magnitude of the quake at 7.5, but later revised this down to 7.0 and then to 7.2. Indonesia measured the quake at 7.4 on the Richter scale.
Several aftershocks with magnitudes of up to 6.3 struck over the day following the original quake, the USGS reported.
The Hawaii-based Pacific Tsunami Warning Centre sent a bulletin saying there was "no destructive widespread tsunami threat" based on available data.
The Indonesian archipelago straddles several continental plates in an area known as the Pacific Ring of Fire, where seismic and volcanic activity is recorded almost daily.
Indonesia was the nation worst-hit by the earthquake-triggered tsunami in December 2004 that killed more than 200,000 people in 11 countries across Asia, including over 168,000 people in Indonesia's Aceh province and Nias island.
The Philippines, made up of more than 7,000 islands, also experiences frequent seismic and volcanic activity.
Follow Emirates 24|7 on Google News.