English fiction in India? It's the same old story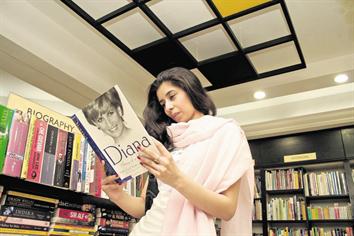 Amid the colour and celebration of the Jaipur Literary Festival, heralded as Asia's largest, one question has furrowed many brows and sparked anxious debate: is fiction writing in English in India past its prime?

Given the growing number of publishers and the constant flood of titles in bookstores, the question seems preposterous.

But in hushed conversations in the quaint courtyards and manicured lawns of Diggi Palace in Jaipur, there was a grudging consensus: fiction writing in English looks all the same.

Much of the recent published works are by young, urban, English-speaking middle-class Indians, are often about young, urban, middle-class Indians dealing with tradition, for instance, or the travails of single middle-class working women.

"Authors may well be writing about the world they know best, but the world all of them know best seems increasingly to be the same world. It is as if

the same novel is being written over and over again," journalist and author Hartosh Singh Bal wrote in Caravan magazine.

Bal, who co-wrote A Certain Ambiguity: A Mathematical Novel, bemoaned "a lack of ambition and a repetitiveness of theme and setting", in part because authors in their early 30s or younger have been largely shaped by post-liberation India after the opening up of the economy in the early 90s.

"For many of them, English is their first language; the world they move in is almost entirely constructed in English ... this kind of fiction [is] repetitive in tone and character," he wrote.

Fiction writing in English in much of the 80s and 90s was defined by Salman Rushdie, Anita Desai, Amitav Ghosh and others who did not live in India. Then came the "diaspora" writers including Jhumpa Lahiri and Chitra Banerjee Divakaruni, who wrote about the experiences of immigrants in foreign lands.

"I was getting so fed up," said Gioia Guerzoni, an Italian translator who has worked on Indian books for many years.

"At least now you have writers who live in India and write about life here, even if it's only urban India," said Guerzoni, who is working increasingly with small publishers.

The limited viewpoint can also be blamed on the readership outside India that publishers target, she said. For the average reader in Europe, it is hard to relate to, even geographically locate, anything beyond the cities of Mumbai, Delhi, Bangalore.

It is this focus on the same type of reader that is at least partly to blame for the anaemia in Indian fiction, said Amitava Kumar, a writer and Vassar professor of English.

"There is not just a homogeneity in the point of origin, but also in the destination: they are all intended for the same kind of reader. The commonness of themes, of motifs is depressing."

Publishers are also responsible, admitted Ravi Singh, chief of Penguin India, but the business is tough in a country where average sales for an English novel are about 3,000-5,000 copies at average prices of less than $7 (Dh25.69). Publishers are all fishing in the same small pool for the next big writer and trying to grab the attention of the same fickle, price-sensitive readers, he said.

"There is a tendency to be risk averse, just as in any business, but it can be more damaging in publishing because if there's no variety, there can't be growth," he said. Still, regional language writing is different, and publishers are publishing more titles in these languages as well as translating them, Singh said.

Foreign readers are also getting more experimental, Guerzoni said, looking for stories beyond spices and arranged marriages.

Eventually though, it is up to the writers, Kumar said.

"You sometimes want the Indian writer to not discover oneself after having read a French author at age seven, but after having been run over by a bus or committing a bank heist."
Keep up with the latest business news from the region with the Emirates Business 24|7 daily newsletter. To subscribe to the newsletter, please click here.
Follow Emirates 24|7 on Google News.