Financial crisis to test Southeast Asian leaders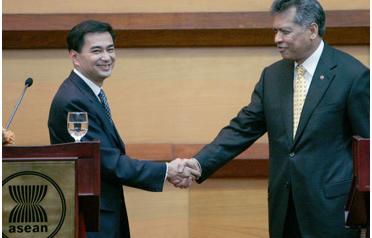 Until recently a relative bright spot in the world economy, several countries in the region of more than half a billion people are facing recession and growing unemployment as demand from trading partners plummets.
Thai premier Abhisit Vejjajiva recently said the Association of Southeast Asian Nations (Asean) summit would "discuss ways and means to mitigate the effects of the financial and economic crisis on the Asean community."
Leaders gathering at the royal beach resort of Hua Hin are expected to sign a declaration on a roadmap for forming an EU-style community by 2015 and to formally ink a free trade pact with Australia and New Zealand.
They will also discuss a $120-billion (Dh442 billion) emergency fund agreed on by Asian finance ministers on Sunday – but analysts warn that the region is largely at the mercy of global events.
"What Asean can do itself is probably pretty limited," said Barclays capital regional economist Nicholas Bibby.
"The main thing is Asean's exposure to the global economy. Because of its reliance on exports, if the global economy takes a hit, then so will Asean's."
In terms of their financial systems, Asean countries have been relatively unscathed by the global crisis, partly due to strengthened oversight after the 1997/1998 Asian financial crisis.
Asean states also have little exposure to the toxic mortgage-based securities and other financial instruments blamed for the turmoil.
But the real economies of Southeast Asian countries have been hit after exports to developed markets fell dramatically and incoming investments slowed.
Current Asean chair Thailand – the region's second biggest economy – was the most recent country to post depressing economic data.
Official figures released on Monday showed that the Thai economy shrank by 4.3 per cent in the final quarter of 2008. Thai exports in January meanwhile suffered their biggest year-on-year fall since 1997.
Trade-dependent Singapore, Asean's wealthiest member per capita and its financial hub, is meanwhile facing its worst recession since independence.
Key exports fell by more than a third in January year-on-year and the government now sees economic growth shrinking by between 2 and 5 per cent for this year.
Indonesia, Asean's largest economy, has also started to feel the pinch with growth slowing in the fourth quarter of 2008, and in Malaysia falling exports could force the government to revise its growth forecast for 2009.
Singapore Foreign Minister George Yeo said each of the steps being taken by Asean in response to the crisis was "not dramatic in itself, but collectively representing a determination to move forward."
In comments published in the Straits Times on Tuesday, Yeo said the economic crisis should strengthen the ties between Asean members – a disparate mix of young democracies, communist states, a monarchy and a military dictatorship.
But he warned against resorting to protectionism because of domestic pressures and called for the region to look for new solutions, including cooperating on tourism.
Bad news for Asean's economies could also be bad news outside the region.
Thai Finance Minister Korn Chatikavanij told AFP last week that Asean was "increasingly the focus of the rest of the world" because of its role in Asia, which has the "world's best chance of driving economic recovery."
Yet key regional partners China, Japan and South Korea are staying away from the summit because of repeated delays due to Thailand's recent political upheaval, leaving the region to deal with its own problems for now.
Follow Emirates 24|7 on Google News.
Southeast Asian leaders are to seek ways of insulating their export-driven economies from the global financial meltdown when they hold their annual summit in Thailand this weekend.