Gandhi auction: great-grandson expresses 'relief and delight'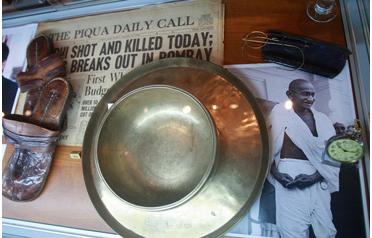 Indian liquor and airline tycoon Vijay Mallya paid $1.8 million (Dh6.6 million) in New York on Thursday for the round spectacles, worn leather sandals, a pocket watch, plate and bowl belonging to the revered "Father of the Nation".
Great-grandson Tushar Gandhi, who runs the Mumbai-based Mahatma Gandhi Foundation, said his reaction to Mallya's successful bid for the independence leader's possessions was "one of relief and delight."
The 49-year-old told AFP he felt "relief that it's been secured for India and delight that it will come back to India and be available for generations of Indians to see."
"I think the right place for them should be in the Gandhi National Museum in Delhi because that's a museum which was created to keep and safeguard Gandhi memorabilia after his death," he said.
"I think these things belong over there. Once they are there, no one will ever be able to profiteer."
The sale of the items sparked a bitter row between their owner, California-based pacifist and documentary maker James Otis, and the Indian government.
New Delhi argued they were part of the country's heritage and to sell them was an insult to the memory of a man who rejected material wealth. Mallya's representative said the tycoon was "bidding for the country."
Mallya's intervention was a "miracle" and "not at all expected," Tushar Gandhi said.
"There was a lot of apprehension that something might go wrong ... I am absolutely delighted that Vijay Mallya has bought these (items) and they will come back to India."
Follow Emirates 24|7 on Google News.
The great-grandson of Mahatma Gandhi on Friday expressed his joy that his ancestor's possessions are to finally return to India after a row over their sale at auction in the United States.