Grim hunt for missing Bangladesh officers after mutiny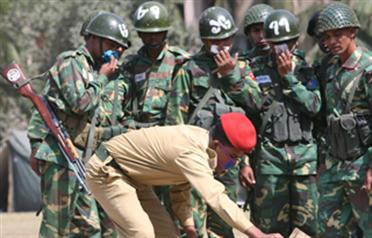 The grim search for dozens of missing army officers entered a third day in the Bangladeshi capital on Sunday after a revolt by border guards left at least 76 people dead, most dumped in two mass graves.
Some 50 officers remained missing as hundreds of firefighters, soldiers and sniffer dogs combed the three-square-kilometre  Bangladesh Rifles (BDR) compound while anxious relatives looked on.
"The death toll from the revolt is 76 -- with 65 of those officers," fire service operations chief Sheikh Mohammad Shahjalal said. "The search will continue until the last missing officer is found."
Most of the dead were found in two mass graves concealed under leaves and loose dirt where the bullet-sprayed and bayonet-mutilated bodies of top officers, including the BDR chief and his wife, were found.
The grisly deaths emerged as BDR border guards laid down their arms Thursday evening, 33 hours after the deadly revolt over pay and conditions began. With rescuers pulling up one dead body after another from mass graves - shown live on television news channels - angry army officers called for those behind the attacks to be severely punished.
"We have never lost such a large number of army officers - even during the war of liberation in 1971 or any coup after that," said retired major general Fazlul Karim, a former BDR chief, speaking of the country's bloody independence struggle from Pakistan almost 38 years ago. In a nationwide television address Saturday, the army's second-in-command said the rank-and-file guards who turned on their superiors would be punished. "The BDR troops who took part in these barbaric and grisly acts cannot be pardoned and will not be pardoned," said Lieutenant General M.A. Mubin. "They will be given exemplary and quick punishment by a special tribunal. The martyrs will be buried with state honours."
As a government inquiry into the mutiny began, police hunted for those behind the revolt with around 250 guards arrested so far, a police spokesman said. The government, meanwhile, on Saturday ordered all troops belonging to the 70,000-strong mutineering BDR to return to their posts within 24 hours.
Tensions in the BDR had simmered for months but erupted into violence when senior officers rejected appeals for more pay, subsidised food and holidays. The guards agreed to put down their arms after Prime Minister Sheikh Hasina - who took office two months ago - appeared on national television and threatened to put down the mutiny by force.
Sheikh Hasina, who had promised a general amnesty for those who surrendered, said severe punishments would be handed to those responsible for the deaths. The violence was the first major crisis faced by the premier since her landslide election win on December 29 ended two years of army-backed rule.
Follow Emirates 24|7 on Google News.