India Inc in damage-control mode after billion-dollar fraud scandal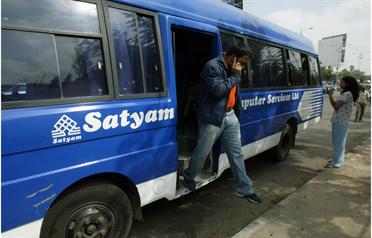 A billion-dollar accounting scandal at one of India's top outsourcing firms has left the government and financial regulators scrabbling to control the damage.
Besides huge losses for investors, the scandal has seriously dented India Inc.'s reputation for strong corporate governance, often viewed as being a notch above its other Asian rival, China.
"The admission of fraud in financial affairs has created an adverse impression in the minds of trade, business and industry across the world," the Indian government admitted in a letter to a business regulation body.
Satyam founder and chairman B. Ramalinga Raju had on Wednesday admitted his company's accounts and assets had been falsified over a period of several years, with profits inflated to the tune of more than one billion dollars.
He was arrested late Friday and is now in jail pending trial, a dramatic fall from grace for a business leader who was one of the pioneers of India's outsourcing boom and once the darling of international investment funds.
Satyam shares have gone into freefall, closing at 23.85 rupees on Friday compared with a value of around 180 rupees before the scandal broke.
"This has also resulted in serious damage to the reputation of Indian corporate sector and the regulatory mechanism in the eyes of the world," the government has said.
The government stepped in on Friday night, sacking the board of directors of fraud-hit Satyam Computers and said it will name representatives to manage the affairs of the disgraced outsourcing giant.
Satyam's interim board had tried damage-control, pledging to investigate the swindle and rectify mistakes in the wake of the admissions.
They insisted they were unaware of the scam, which has prompted comparisons with the collapse of US energy giant Enron and generated fears over the impact on foreign investment in Indian business and on corporate governance standards.
But question marks also remain over the role of Satyam's auditors Pricewaterhouse in the affair.
The president of the Institute of Chartered Accountants of India, Ved Jain, described the issue as "serious" and said "strict action will be taken against auditors if found guilty."
And analysts say wider, concerted regulatory action is needed to restore confidence.
"There will be an impact on India Inc." said analyst Viju George of brokerage Edelweiss Securities. "Companies need to do more to raise credibility of their boards."
He called the Satyam saga "black and shameful" for Indian business.
"The Indian IT services industry will face greater scrutiny by both clients and investors. The Satyam saga has caused some form of collateral damage to the sector," said Manik Taneja of Emkay Shares and Stockbrokers.
New York-listed Satyam, India's fourth-biggest software firm, with clients in 65 countries, has in recent years been on the investment list for several top Indian and global mutual funds.
The market regulator probing the billion dollar scandal, the Securities and Exchange Board of India (Sebi), called it "an event of horrifying magnitude and first of its kind (in India)."
Trying to control the damage, Sebi has promised unprecedented steps to "boost investor confidence".
Independent auditors will now scrutinise the last quarterly results and audited annual financial statements of companies that are listed on exchanges and form part of India's key benchmark indices, the 30-share Sensex and 50-share Nifty, the regulator said.
"This exercise will be undertaken after the third quarter results and is expected to be completed by end of February this year," an official statement said.
India's third quarter corporate earnings announcements commence with its second largest software exporter, Infosys Technologies, on January 13.
Follow Emirates 24|7 on Google News.