India's Satyam shares sink after government bailout rejected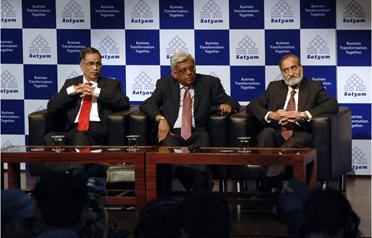 Shares of fraud-hit Satyam plunged over 30 per cent Thursday after a company director rejected the idea of a government bailout for the Indian outsourcing giant.
"Taking money from government will send a wrong signal," Karnik, one of three new board directors named by the government, told the Times of India.
"The company will make profits within a few months," insisted Karnik, adding Satyam was still a "very viable organisation" despite the massive fraud.
At the same time the company needed money to pay staff, Karnik, a former chief of the National Association of Indian Software and Services Companies, the country's outsourcing lobby group, was quoted as saying.
Satyam shares fell 9.55 rupees or 31.3 per cent to a day's low of 20.55 in early trade on the back of Karnik's remarks, dealers said.
Media reports had estimated the government might have to inject around $400 billion into Satyam to keep it operating and ease worries of clients rattled by one of India's largest corporate frauds.
Shares in India's fourth-largest outsourcing company have plunged over 80 per cent since founder-chairman B. Ramalinga Raju's dramatic confession last week that he had falsified Satyam's accounts by more than $1billion.
"Satyam could re-emerge stronger on its own with its existing clients, backed by a skilled workforce," Karnik said.
At the same time, Karnik said Satyam needed funding to meet working capital requirements and pay staff next month. Raising funds from equity partners and banks topped the board's priority list, he said.
"Our only concern is to keep the show going and hold on to the clients and the workers," he said.
The paper quoted Karnik as saying there was not enough money left in the bank after Raju confessed he had inflated bank deposits.
Meanwhile, Satyam announced it continued "to search for suitable candidates for the chief executive and chief financial officer."
Satyam named two new audit firms Wednesday to restate its results after Pricewaterhouse Cooper, which had audited the company's books, said its findings were unreliable.
The new board is working toward making Satyam financially viable before any merger or sale is considered, Kiran said.
Follow Emirates 24|7 on Google News.