Japan marks 14th anniversary of deadly Kobe quake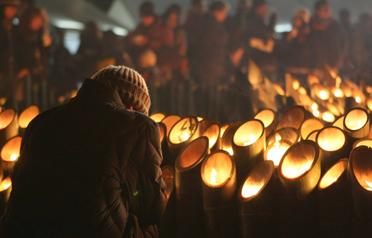 Japan commemorated on Saturday the 14th anniversary of a 7.3-magnitude earthquake that destroyed the western city of Kobe, killing 6,434 people.
Thousands of survivors and relatives of the victims held pre-dawn candlelight vigils at temples, public parks and in their homes, observing a minute of silence at 5.46am, the exact time the 1995 quake struck.
Most of the victims in Kobe died instantly, many in their sleep as their houses collapsed.
The quake, the first to hit a densely-populated area in Japan in more than 70 years, injured 43,700 people and left around 400,000 people homeless.
"I believe we have a duty to talk about the disaster of the earthquake to the generations to come," said Chiharu Tanaka, 53, who lost her mother in the quake.
"We must treasure the bonds among ourselves. We must treasure lives," she said in an address at a gathering in Higashi Yuenchi Park in Kobe.
Japan sits on the Pacific "Ring of Fire" and experiences 20 per cent of the world's major earthquakes.
The deadly quake shattered Japan's illusions that the country's post-war economic reforms and vaunted building standards could ensure complete security.
Follow Emirates 24|7 on Google News.