Japan races to build zero-emission car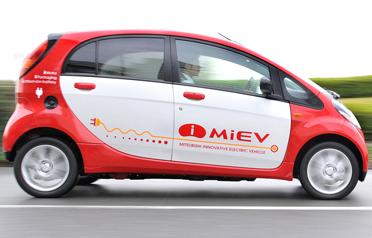 "Please erase your image of electric cars being like golf carts," a spokesman for Japan's fourth-biggest automaker said before taking a zero-emission vehicle out for a spin.
As mass-produced electric cars come closer to reality, their makers are trying to polish the image of what experts say could be a hard sell in the current recession.
"It's fast, powerful and smooth," Mitsubishi Motors Corp spokesman Kai Inada said of the iMiEV electric car, which is due to be launched this year.
Zero-emission vehicles may not be a novel concept for long. Japanese carmakers are racing to develop electric cars, and US and European manufacturers have also announced plans to roll them out within a few years.
The dream of an electric car, which has been around since the time of Thomas Edison, has so far failed to break into the mainstream because of limited battery life that makes such vehicles impractical for most purposes.
But after technological breakthroughs in the development of long-lasting lithium-ion batteries, soon it may not just be Hollywood stars who are zipping around in zero-emission automobiles.
Mitsubishi's electric car now runs 160 kilometres on one charge, which takes 14 hours when using a conventional 100-volt outlet on the wall, or 30 minutes to charge 80 per cent of the battery using a special quick charger.
With the help of government subsidies, Mitsubishi Motors aims to sell its iMiEV at a price of less than JPY3 million (Dh110,000) as early as 2010.
"The price and the short mileage per charge are the two biggest challenges we must address," admitted Kazuhiro Yamana, head of Mitsubishi's public relations department.
"But we expect that technological breakthroughs in lithium-ion batteries will continue, realising longer distances – for example triple the current distance in 10 years," he said.
Nissan Motor Co aims to start selling an electric car in the United States and Japan in 2010 and the rest of the world in 2012.
Other Japanese automakers have been working to create fuel cell cars, which produce electricity through a chemical reaction between hydrogen and oxygen, with water the only by-product.
Fuel cell cars have a number of advantages over electric cars, said Honda Motor Co engineer Michio Shinohara.
"Most users are not satisfied with the mileage" of electric cars, he said. Honda's latest fuel cell car, the FCX Clarity, has a cruising distance of 620 kilometres per charge, and takes just three or four minutes to recharge.
Honda began selling the latest FCX Clarity in the United States in July, with the first five cars to be delivered to celebrities including film producer Ron Yerxa and actress Jamie Lee Curtis.
Toyota Motor Corp, which has already won strong interest in its petrol-electric hybrids, is developing a range of fuel cell, electric and other clean cars that run on biofuel or clean diesel.
Toyota says its fuel cell car FCHV-adv can travel 830 kilometres on a full tank of hydrogen, but it may not see mass production until 2016.
Fuel-cell vehicles belch out none of the greenhouse gases blamed for global warming, but their high cost and a lack of hydrogen refuelling stations pose obstacles to mainstream use.
"You need to have hydrogen stations," said Toyota engineer Kazuyoshi Tasaka. "But it requires a government policy to build up such an infrastructure."
So far, the government-backed Japan Hydrogen & Fuel Cell Demonstration Project has constructed 12 hydrogen stations nationwide, with plans to build more stations for commercial use from 2015.
But experts question how much interest there will be for electric cars while the economy is in the doldrums.
"There is virtually no market for them given the current economic situation," said Koji Endo, auto analyst at Credit Suisse.
"People don't even want to buy a conventional car. Why would they buy a more expensive one? Furthermore, with gasoline prices falling sharply, an incentive for cutting fuel costs has disappeared," Endo said.
Longer term, green cars may be necessary lineups for carmakers because of regulations aimed at curbing greenhouse gas emissions, Endo said.
"Green cars would be more sellable if the world economy recovers, which would lead to a surge in gasoline prices and generous government subsidies to purchase of green cars."
Japanese automakers have enjoyed brisk demand for their smaller, fuel-efficient cars in recent years.
The ailing Big Three US automakers – General Motors, Ford and Chrysler – meanwhile have faced criticism in Washington for being too slow to shift their focus from gas-guzzling SUVs.
But even Japanese automakers still have more work to do before fuel-cell or electric vehicles are completely environmentally friendly.
While fuel cell or electric vehicles emit no carbon dioxide themselves, CO2 is produced when hydrogen or electricity is produced from fossil fuels.
Honda Motor has been conducting research into hydrogen generation from solar power since 2001, but only at an experimental level.
Follow Emirates 24|7 on Google News.