Malaysia heads into critical by-election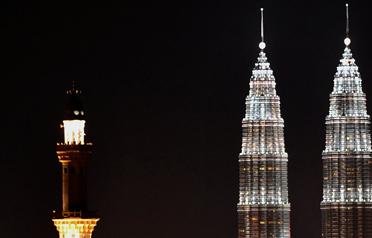 Campaigning kicked off on Tuesday for a critical by-election seen as a test of the Malaysian government's popularity since disastrous losses in national polls last year.
"We must ensure we win this election. We must regain our political strength and influence," said Deputy Prime Minister Najib Razak who is leading the campaign for the January 17 vote in northeastern Terengganu state.
The government is hoping to show it has clawed back support with promises of reform and leadership changes after losing five states and a third of parliamentary seats in the March 2008 general elections.
For the opposition alliance, it is a chance to show its support is holding up and that it is working effectively, despite government claims that the partnership of three very different parties is already cracking up.
The by-election is the first major test for Najib who is due next March to take over the top job. Prime Minister Abdullah Ahmad Badawi was forced to agree to step aside in the fallout from the national elections.
The campaign for the seat of Kuala Terengganu in the state's capital – held by a government deputy minister and vacated when he died in November – got under way on Tuesday amid extremely tight security.
Tens of thousands of supporters from both sides faced off across metal barricades manned by police in full riot gear, among a 1,000-strong security contingent at a stadium where the candidates were officially announced.
At a rally late Monday, Najib urged his ruling party UMNO to abandon the rivalries that have damaged its performance in past polls, and close ranks to ensure victory in the vote which pundits say will be extremely close.
"This is not a time to advance our own agenda," he said.
"We are weak. Our soul is weak. Let's pray to God to give us victory. Let's all pray to ask God to give us confidence to battle this election."
The government candidate, Wan Ahmad Farid, 46, is a controversial choice. The deputy home minister is from a wealthy family in Terengganu and has been criticised as having little grassroots experience.
The opposition is putting forward Mohamad Abdul Wahid from the Islamic party PAS. The 52-year-old is unknown outside the state, but has an unblemished record and a history of wins in past state-level polls.
Follow Emirates 24|7 on Google News.