Nepal's power cuts increased to 16 hours a day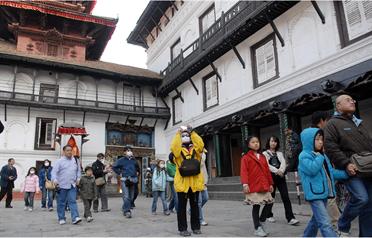 Nepal's state-run power monopoly increased daily power cuts to 16 hours from 12 hours on Sunday because growing demand for electricity in winter was putting further strain on generating capacity, an official said.
The Nepal Electricity Authority (NEA) has been imposing 12 hours of daily power cuts, saying generation of hydro-electric power had fallen because of the slow melting of mountain snows.
Senior NEA official Sher Singh Bhat said an earlier plan to increase power outages from next month was brought forward because river levels were falling "very fast" and power demand was rising in winter.
NEA generates 300 megawatts (MW) of electricity against demand of 800 MW, which is rising by 10 per cent every year.
"The situation could ease a little bit in the summer, but the power cuts are here to stay for another five to six years," he said, adding no major hydro-electric plant was set to start generating power before then.
Nepal's ruling Maoists say the crisis was due to the failure of previous governments to build new power stations on time.
No major hydroelectric plants were built in the past decade because of poor security during a decade-long Maoist insurgency, which ended two years ago.
During the revolt, insurgents attacked infrastructure such as power facilities, scaring investors away.
Industries and businesses say the power cuts have reduced output and will hit economic growth as industries were running on less than 20 per cent of their capacity.
The crisis is the latest blow to the Maoist-led government in a country where barely 40 per cent of the 27 million people have access to electricity, while the rest mainly depend on wood for cooking and heating.
The power shortage has enraged people, nearly one third of whom live on a daily income of less than a dollar.
"Ministers and the president are getting uninterrupted power supply," said angry Kathmandu taxi driver Mani Lama.
"Why is it that only ordinary people are forced to face power outages regularly." 
Follow Emirates 24|7 on Google News.