North Korea assembling longest-range missile: report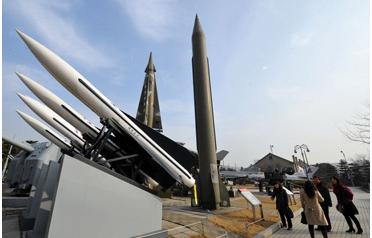 South Korean and US officials have warned prickly North Korea not to launch its Taepodong-2 missile, which is supposed to eventually be able to hit Alaska but has never successfully flown. It blew apart seconds after it was last tested in 2006.
North Korea recently transported the first and second stage of the Taepodong-2 to its missile base on a special train and has been assembling the pieces at an indoor facility to prevent spy satellites from watching, the Chosun Ilbo newspaper reported intelligence sources as saying.
"We assume that they are currently assembling the first and second-stage rockets," the paper, which is South Korea's largest, reported a South Korean government official as saying.
The missile, thought to be about 36 metres (118 ft) tall, needs to be positioned vertically, sent to a launch pad and fuelled. These operations can be viewed by US spy satellites, which can give the outside world a warning several days in advance that a launch is imminent, it said.
South Korean military officials would not confirm the report.
If fired successfully, it will likely go over Japan, experts said. Market players expect sentiment to be dampened by any test but the recent rumblings have not had an impact on shares.
North Korea, which tested a nuclear device in 2006, does not have the technology to miniaturise an atomic weapon to mount as a warhead. It also has several hundred ballistic missiles with ranges that can hit all of South Korea and Japan.
CLINTON TRIP
North Korea, which analysts said may be stirring up tension to grab the attention of new US President Barack Obama, will be high on Secretary of State Hillary Clinton's agenda when she visits Asia next week, her first trip abroad since taking office.
When she visits Tokyo, Seoul and Beijing, Clinton is likely to discuss how to approach North Korea, which in 2005 pledged to end its nuclear arms programmes under a disarmament-for-aid deal it struck with China, Japan, Russia, South Korea and the United States.
North Korea may also be preparing to launch short-range missiles near a disputed Yellow Sea border with South Korea off the west coast, South Korean officials say.
Analysts said launches may also be aimed at putting pressure on South Korean President Lee Myung-bak, who angered his destitute neighbour by cutting off what once had been a free flow of unconditional aid shortly after taking office last year.
"Missile moves are designed to strengthen (the North's) internal control," said Choi Choon-heum, a senior research fellow at the South's Korea Institute for National Unification.
He said the North's leaders can use the launches to try to show their people the state is powerful enough to stand up to the United States and South Korea despite its poor economy.
The North will celebrate leader Kim Jong-il's 67th birthday on Monday and a parliament meeting in early March. Kim appears to have recovered from a suspected stroke in August.
North Korea has been holding celebrations to mark Kim's birthday with fireworks over Kim's reported birth place, communist oath-takings and a film festival where documentaries such as "Cherishing the Leader's Desire" were shown. 
Follow Emirates 24|7 on Google News.
North Korea has been assembling its longest-range missile at an east coast launch base and could test-fire the rocket by the end of this month at the earliest, a leading South Korean daily reported on Friday.