North Korea succession issue heightens uncertainty: Clinton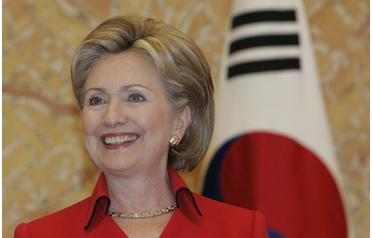 "When you are thinking about the future dealings with a government that doesn't have a clear succession – they don't have a vice president, they don't have a prime minister – there is something there to think about," she told a press conference.
"But we are dealing with the government that exists right now," Clinton said, urging it to honour nuclear disarmament commitments.
On Thursday Clinton – in a rare comment from a top US official – acknowledged the possibility of a leadership change in the secretive nation.
She expressed fears that any leadership change could encourage an even harder line towards South Korea. The North has already scrapped all peace pacts with the South and warned of a possible war.
If there is a succession, "even if it's a peaceful succession, that creates more uncertainty and it may also encourage behaviours that are even more provocative as a way to consolidate power within the society," she told reporters on her plane to Seoul.
Kim, 67, is widely reported to have suffered a stroke last August. South Korean officials say he remains in control, but there have been some reports indicating possible preparations for the succession.
"I think this is an especially important time for South Korea as they are confronting a lot of worries about what's up in North Korea, what the succession could be, what it means for them," Clinton said Thursday.
She said six-party nuclear disarmament talks have made some progress but North Korea still possessed nuclear weapons and showed "very little willingness to get back on track."
"And now some of that is attributed to their own internal situation which I will discuss with the South Koreans."
Seoul's unification ministry said Kim is in full control.
"The North Korean leadership is stable and he is overseeing state affairs in a normal manner," a ministry spokesman said, adding there is no sign yet of preparations for a succession.
Kim inherited power from his father Kim Il-Sung in the communist world's only dynastic succession. But it is unclear whether he wants one of his three sons to succeed him – and if so, which one.
Seoul's Yonhap news agency reported last month that Kim had nominated his third son Jong-Un as next leader in preference to the eldest Jong-Nam and the middle son Jong-Chul.
Japanese daily Mainichi Shimbun carried a similar report Tuesday.
On Thursday Yonhap said Jong-Un has registered as a candidate for the North's parliamentary elections on March 8, in what it termed the start of a process to designate him as successor.
Other analysts believe a collective military-party leadership will emerge if Kim dies or becomes incapacitated, with one of the sons as merely a figurehead leader.
Follow Emirates 24|7 on Google News.
Uncertainty about the succession to North Korean leader Kim Jong-Il is complicating negotiations with the communist state, US Secretary of State Hillary Clinton said on Friday.