Obama hopes for reconciliation in Afghanistan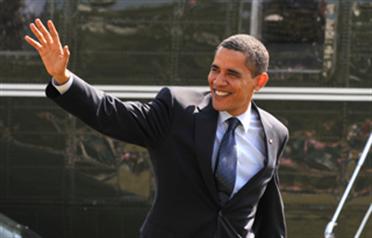 US President Barack Obama is open to the idea of reaching out to the insurgencies in Afghanistan, The New York Times reported on Saturday.
In an interview with the newspaper published on its website, Obama said that some of the US success in Iraq involved reaching out to Islamic fundamentalists who had been alienated by the tactics of al Qaeda in Iraq."There may be some comparable opportunities in Afghanistan and the Pakistani region," he said. "But the situation in Afghanistan is, if anything, more complex."
Obama, who last month approved the deployment of 17,000 more troops to Afghanistan as part of an effort to stabilize the country, had suggested before becoming president that he was open to talks with more moderate Taliban leaders.
Insurgent violence is at its highest in Afghanistan since US-led forces toppled the Taliban in late 2001. Obama, who sees the Afghan conflict as a more pressing concern than the unpopular war in Iraq, is trying to convince other NATO nations to boost troop commitments to the international operation.
The Times said that in the interview, Obama also left open the option for American operatives to capture terrorism suspects abroad even without the cooperation of a country where they were found. "There could be situations - and I emphasize 'could be' because we haven't made a determination yet - where, let's say that we have a well-known al Qaeda operative that doesn't surface very often, appears in a third country with whom we don't have an extradition relationship or would not be willing to prosecute, but we think is a very dangerous person," he said. "I think we will have to think about how do we deal with that scenario in a way that comports with international law and abides by my very clear edict that we don't torture."
Obama's new CIA Director Leon Panetta disappointed European opponents of secret CIA transfers of terrorism suspects when he said that Obama was keeping rendition as an option in the fight against terrorism.
Last month Panetta told a Senate hearing that suspects might still be sent to third countries for questioning, subject to assurances they would be treated humanely. Rendition cases during the Bush administration raised allegations by human rights groups that detainees were tortured while in the custody of third countries.
WHAT DO YOU THINK?  How do you feel about the increase of American troops in Afghanistan? Have your say by posting a comment below, or emailing us at online@business24-7.ae.
Follow Emirates 24|7 on Google News.