Plane skids off runway in Germany, no injuries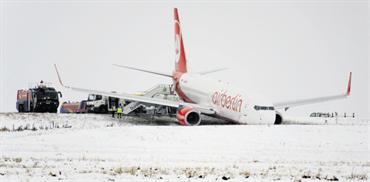 "A combination of the snowy weather and the speed the plane was travelling at forced the plane to skid off the runway," she said, adding there had been no need for an emergency evacuation and there were no injuries.
The Air Berlin Boeing 737 had been heading to Las Palmas. Dortmund airport has been closed until further notice and passengers sent to other airports. (Reuters)
Follow Emirates 24|7 on Google News.
Some 165 passengers and six crew escaped unhurt from a plane that skidded off the runway at Dortmund airport early yesterday after the pilot aborted take off, a spokeswoman for airline Air Berlin said.