Sony expects $2.9 billion operating loss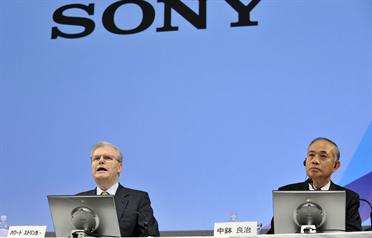 Sony on Thursday forecast a much bigger than expected operating loss of $2.9 billion, the first in 14 years, as the global economic crisis saps demand for cameras, televisions and other goods.
The grim forecast underscored the depth of the problems facing the electronics industry as consumers cut spending amid a wave of global job cuts.
The iconic Japanese company said it expects an operating loss of JPY260 billion for the current financial year to March, a dramatic reversal from an earlier goal of a JPY200 billion profit.
Chief executive Howard Stringer, the company's first foreign boss, said he would speed up restructuring, closing a television plant in Japan as part of efforts to save JPY250 billion a year and return to profit.
Sony will also outsource some software development to India, reduce its executive bonuses and introduce an early retirement programme.
The electronics giant, which is slashing thousands of jobs and axing plants, now sees a net loss of JPY150 billion for the current year, compared with an earlier projection for a JPY150 profit.
"This is worse than I'd expected," said Kazumasa Kubota, an analyst at Okasan Securities.
"Additional restructuring to cut fixed costs is necessary to staunch the bleeding," he said.
"But just stopping the haemorrhage is not the final solution. You need a strategy to make a comeback, but I don't know who on earth can prescribe such a measure in the severe environment we face today," he added.
Sony blamed the worsening business environment, the stronger yen, weak financial markets and restructuring costs for the bleak outlook.
Under Stringer, a Welsh-born US citizen, Sony has shed non-core assets and slashed thousands of jobs in recent years. Last month it announced 16,000 more job cuts along with factory closures.
A big loss would be a far cry from the operating profit of JPY475 billion the company made last year. It slashed its sales forecast to JPY7.7 trillion from 9.0 trillion.
Before the economic crisis erupted Sony had been recovering from a difficult spell in the face of tough competition from rival products such as Apple's iPod and Nintendo's Wii.
Sony's share prices closed down 2.56 per cent at JPY1,938 Thursday ahead of the profit warning.
Other Japanese companies are also facing tough times as consumers tighten their purse strings to cope with recessions in major economies from the United States to Japan and Europe.
Toyota Motor Corp. last month forecast a first-ever annual operating loss of JPY150 billion.
Follow Emirates 24|7 on Google News.