South Korea tells North to withdraw airline threat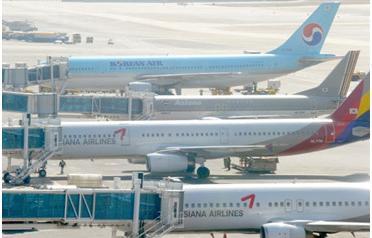 North Korea, which is preparing to test its longest-range missile, said on Thursday it could not guarantee the safety of the South's commercial flights off the east coast of the peninsula where the missile base is located.
It linked the warning to next week's joint US-South Korea military drills which it regularly criticises as a prelude to war.
"Threatening civilian airliners' normal operations under international aviation regulations is not only against the international rules but is an act against humanity," South Korea's Unification Ministry spokesman Kim Ho-nyeon said.
"The government urges the North to immediately withdraw the military threat against civilian airliners," Kim said.
South Korea and the United States have held the military drills for years without major incident. North Korea regularly criticises them as "a prelude to invasion and nuclear war."
Kim said the South's Korean Air and Asiana Airlines had been immediately notified of the threat following the North's announcement.
The airliners responded by diverting flights that approach the country from the east, he said.
Kim said about 33 daily flights approached the South from the east with about 15 of them by South Korean airliners.
"We've become quite used to our northern neighbour's threats. Its overall impact on airlines is limited," said Suh Jin-hee, an analyst at SK Securities in Seoul.
The latest war of words comes ahead of rare talks between North Korean generals and the US-led UN command on Friday, the UN command said.
The two sides had their first such meeting in about seven years on Monday and the North, which requested the talks, complained about US military moves near the border and live-fire joint training, South Korean officials said.
Separately, the United States has sent Stephen Bosworth, its new special envoy for North Korea, to the region this week for talks on halting any moves by Pyongyang viewed as provocative. Bosworth will visit Seoul on the weekend. 
Follow Emirates 24|7 on Google News.
South Korea told the North on Friday to immediately withdraw a threat it made against the South's commercial airliners, which has forced them to stop flying near the airspace of the communist neighbour.