Sri Lanka 'callous' over trapped civilians: rights body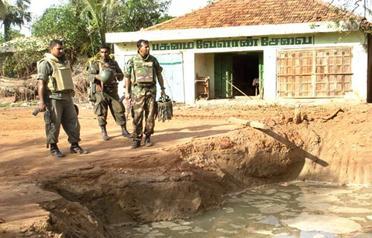 Sri Lanka's government is showing a "callous indifference" towards civilians trapped in fighting with Tamil Tiger rebels by refusing to guarantee their safety, Human Rights Watch said on Wednesday.
The New York-based watchdog said a statement by the Colombo government that it could not be responsible for the security of civilians outside designated safety zones was contrary to international law.
"The Sri Lankan government knows full well that the civilians caught up in the current fighting are dangerously trapped," said Human Rights Watch Asia director Brad Adams.
"The government shows callous indifference by saying civilians should not expect the government to consider their safety and security."
The United Nations says up to 250,000 civilians are caught in the remaining pocket of territory still held by the Liberation Tigers of Tamil Eelam (LTTE) on the island's northeast coast.
Sri Lanka's government puts the figure closer to 120,000.
Human Rights Watch also reiterated its concern that the Tigers were placing civilians at grave risk by preventing them from leaving conflict zones.
The watchdog said civilians in areas held by the LTTE had consistently been prevented from fleeing to government-controlled territory.
Follow Emirates 24|7 on Google News.