Sri Lankan cricketers' attackers identified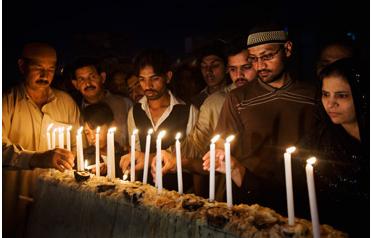 The ambush on the team and its police escorts as they drove to the main stadium in Lahore shocked cricket-mad Pakistan and raised new fears about the nuclear-armed US ally's ability to overcome the threat of rising Islamist militancy.
Seven Pakistanis – six policemen and the driver of a bus carrying match officials – were killed in Tuesday's attack.
Police issued sketches early on Thursday of four of the gunmen who attacked the team and their escorts with AK-47 rifles, hand grenades and a rocket-propelled grenades, as they drove to Lahore's main stadium.
Later, provincial governor Salman Taseer, said authorities knew the identity of those responsible.
"We have identified the people who did the operation. We have made arrests, we are chasing them, we have rounded up people," Taseer told a news conference.
He declined to elaborate, saying: "I am going to give you details in the next few days."
There has been much angry finger-pointing over the failure of the police to protect the team, despite a warning about just such an attack. Taseer said a report on the team's security would be sent to the government on Friday.
City police inspector Asif Rashid said sketches of four of the gunmen, who appeared to be 25 to 30 years old, were made from descriptions provided by a motorist and rickshaw driver.
Six Sri Lankan players were wounded along with two team officials, including a British assistant coach. They flew back to Colombo along with the rest of their party later on Tuesday.
Two Australian umpires and an English referee caught up in the attack slammed the security arrangements and said they were abandoned by Pakistani security forces once the shooting began.
"We were caught in a war zone," umpire Simon Taufel told reporters on his return to Australia.
ICC match referee Chris Broad told a news conference in Manchester he and other match officials had been left like "sitting ducks" when the attack began.
The Pakistan Cricket Board said it would lodge a protest with the International Cricket Council over Broad's remarks.
SUSPECTS
There is a long list of possible suspects.
Sri Lankan Foreign Minister Rohitha Bogollagama said in Islamabad on Wednesday it was the first attack on Sri Lankans outside the country and he did not rule out the possibility the rebel Liberation Tigers of Tamil Eelam were involved.
Speculation has otherwise focused largely on two Pakistani Islamist militant groups – Lashkar-e-Taiba and Lashkar-e-Jhangvi – as well as the Pakistani Taliban.
Whoever was responsible, the consequences for Pakistani cricket would appear dire.
Even before the attack many countries refused to come to Pakistan and on Thursday Bangladesh postponed a visit there by the Pakistani team this month over security concerns.
Pakistan were due to arrive in Bangladesh on Saturday to play two Twenty20 and five one-day internationals against the hosts.
Former president Pervez Musharraf said Pakistani cricket was almost finished.
Musharraf, who has been keeping a low profile since stepping down as president in August, also told reporters the special police guarding the Sri Lankan team should have responded and killed the attackers in less than three seconds.
"That should be the level of training that I expect from an elite force ... we need to improve that standard," former army chief Musharraf said.
Pakistan, beset by economic problems, has reeled under a wave of bomb and gun attacks in recent years, mostly carried out by militants linked to the Taliban or al Qaeda.
The civilian government which came to power a year ago is also embroiled in a confrontation with the main opposition party over a court ruling banning its leaders from elected office and forcing the party's government from power in Punjab province.
More trouble is looming.
Anti-government lawyers backed by opposition political parties are due to launch a cross-country motor convoy on March 12 to press for an independent judiciary and plan to begin an indefinite sit-in near parliament on March 16.
Commentators have mentioned similarities between the Lahore attack and November's assault on the Indian city of Mumbai in which nearly 170 people were killed. India blamed Pakistani militants and their security agency handlers for that attack. 
Follow Emirates 24|7 on Google News.
Pakistani authorities have identified the people responsible for this week's attack on Sri Lanka's cricket team, a senior government official said on Thursday.