Sri Lankan suicide bomber injures many, kills several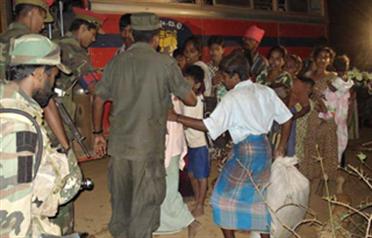 A female Tamil Tiger suicide bomber mixed with a group of civilians fleeing Sri Lanka's war zone blew herself up on Monday, killing 28 people and wounding 90, the military said.
The blast happened at Vishvamadu, a town in the north of the Indian Ocean Island recently captured by the military as it battles to crush the Liberation Tigers of Tamil Eelam (LTTE) separatists and end a 25-year-old war.
"A female suicide cadre who came with civilians, while the military was checking them, exploded herself. Sixty civilians are injured. There are a few deaths and there are military casualties also," a spokesman for the military's Media Centre for National Security said on customary condition of anonymity.
The rate of civilians fleeing fighting between the military and the cornered LTTE has picked up sharply this week, with at least 14,000 fleeing since Thursday - out of at least 17,900 so far this year. "We are trying to save Tamil people, but LTTE is not allowing us to do that and they have exploded a suicide bomb among civilians," Media Minister Anura Priyadarshana Yapa told Reuters.
The LTTE has a squadron of elite fighters known as the "Black Tigers" who are used for suicide missions and other difficult assaults. The Tigers have landed on US, EU, Canadian and Indian terrorism lists, largely for their widespread use of the suicide blast as a weapon of war. The LTTE is credited with inventing the suicide jacket, a bomb-laden vest.
The Tigers have long mixed with the civilian population to give themselves the ability to infiltrate and launch surprise attacks on the military and others.
Follow Emirates 24|7 on Google News.