Tension high on Korean peninsula amid military drills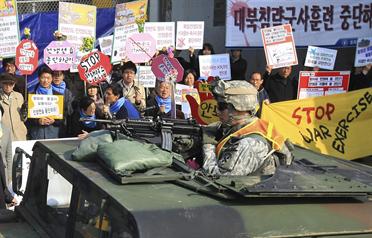 US and South Korean troops began annual military drills on Monday and North Korea said it had put its armed forces on full combat readiness in response to the exercises, heightening tensions on the Korean peninsula.
North Korea, which is preparing to test-fire its longest-range ballistic missile, also said it would regard the shooting down of any of its rockets as an act of war.
The North Korean army said in a statement the drills were a "provocation" that would only occur "on the eve of a war", and cut off a telephone hotline with the South's military.
Pyongyang regularly accuses the United States and South Korea of aggressive intentions before the exercises, which have been held for years without major incident.
But North Korean media has been more strident about these drills, which come as Pyongyang is making preparations to test-fire its Taepodong-2 missile and at a time of speculation about the health of North Korean leader Kim Jong-il.
North Korea has repeatedly said it is preparing to launch a satellite as part of a peaceful space programme.
"Shooting our satellite for peaceful purposes will precisely mean a war," a spokesman for the North's Korean People's Army said in a statement carried by the official KCNA news agency.
Last week the unpredictable state said it could not guarantee the safety of South Korean civilian aircraft flying near its airspace. That forced several airliners to alter their routes.
The military drills are scheduled to run until March 20, and are longer and on a greater scale than in previous years.
The aim is to test the defensive readiness of U.S. and South Korean forces ahead of the transfer of war-time command from the US to the South Korean military in the next several years.
Troops are being mobilised throughout South Korea, including Marines who will conduct live-fire drills north of Seoul, which is less than two hours drive from North Korea. A US aircraft carrier will take part in the exercises, the US military said.
South Korea urged its secretive neighbour to reopen the military hotline immediately, while financial markets in Seoul brushed off the latest sabre-rattling by Pyongyang as little more than rhetoric.
"Unless more drastic actions are taken by the North, such as a missile test, investors will remain unfazed by these issues," said Yoo Soo-min, a market analyst at Hyundai Securities.
South Korea, Japan and the United States have said they see no difference between a satellite and a missile launch because they use the same technology and the same rocket. The North is barred from launching a ballistic missile under UN sanctions.
KIM GETS 100 PER CENT VOTER SUPPORT
The poor health of North Korean leader Kim -- it is widely believed that he suffered a stroke in August -- has triggered speculation over who might eventually take over a nation that tested a nuclear device in 2006. US Secretary of State Hillary Clinton last month warned of a possible power struggle.
North Koreans voted on Sunday in tightly controlled elections for a new parliament and Kim was re-elected as a deputy with 100 per cent of the vote from his Pyongyang constituency, KCNA said.
No other results have been announced but South Korea's Yonhap news agency has said Kim's youngest known son, Kim Jong-un, was running in the election. That would signal Jong-un's emergence as a possible successor to Kim.
Yonhap has previously reported that the 67-year-old Kim has named Jong-un as his successor. Some analysts on North Korea have said there was little evidence any choice had been made yet.
In Seoul, the new US special envoy for North Korea, Stephen Bosworth, was holding talks with South Korean officials on how to restart negotiations on ending the North's nuclear arms programme. Bosworth is on a tour of North Asian capitals.
Six-party talks aimed at coaxing Pyongyang to carry out nuclear disarmament have been under way for several years.
The two Koreas are technically still at war and station about 1 million troops near their respective sides of the Demilitarised Zone that has divided the peninsula since the 1950-53 Korean War ended in a ceasefire, but not a peace treaty.
Follow Emirates 24|7 on Google News.