Thai PM slips into office as protest drags on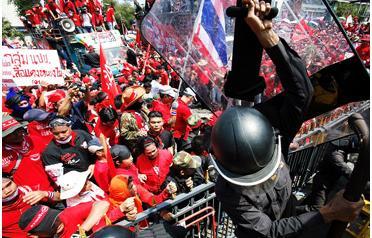 A car carrying Abhisit, who returned to Bangkok after moving a weekly cabinet meeting to a seaside resort on Tuesday, entered the Government House compound through a side entrance without incident, witnesses said.  Protest leaders said their three-day siege, which appears aimed at embarrassing the government on the eve of a Southeast Asian summit in the resort town of Hua Hin, 200 kms from Bangkok, could drag on if their demands are not met.  "We planned to stay for a few days, but it will depend on the situation. We are exercising our right to hold peaceful and non-violent rallies," UDD leader Jatuporn Prompan told Reuters.
The streets were calm outside Government House, where hundreds of red-shirted protesters ate breakfast and listened to speakers on a makeshift stage as riot police looked on.
UDD leaders have pledged not to storm the compound, which was occupied for three months last year by the royalist yellow-shirted People's Alliance for Democracy (Pad), a rival protest group that played a key role in the ousting of former Prime Minister Thaksin Shinawatra in a 2006 coup.
The UDD planned to send demonstrators to the Foreign Ministry later on Wednesday to call for the resignation of Foreign Minister Kasit Piromyas.
He was a regular speaker at last year's Pad rallies against the previous pro-Thaksin government, which was later forced out of power by the courts.
After joining Abhisit's government, Kasit was criticised for defending the Pad's seizure of Bangkok's main airports late last year which disrupted tourism and trade.
The airport seizures forced host Thailand to cancel the annual meeting of Association of South East Asian Nations (Asean) leaders in December. The UUD has said it has no plans to protest at the summit in Hua Hin this weekend.
Abhisit, who leads a shaky coalition government after winning a parliamentary vote for prime minister in December, has refused to call an election while his government struggles to revive an export-driven economy battered by the global slowdown.
The state planning agency said on Monday the economy would probably shrink in 2009, reinforcing expectations of a big Bank of Thailand interest rate cut later on Wednesday.
Analysts say the outlook for political stability remains bleak as long as there is no end to the rift between Bangkok's royalist military and business elite, who accuse Thaksin of corruption, and rural voters who loved his populist policies. 
Follow Emirates 24|7 on Google News.
Thai Prime Minister Abhisit Vejjajiva slipped into his offices in Bangkok on Wednesday where anti-government protesters camped outside for a second day demanding he call elections.