Tibetans face 50th uprising anniversary with dismay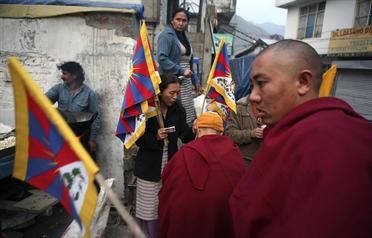 Tibetan exiles say they are facing Tuesday's 50th anniversary of an uprising in their homeland with despair after decades of campaigning against Chinese rule have failed to bring change.
Traditional prayer flags still flutter in the northern Indian hilltop town of Dharamshala, home to the Dalai Lama, but younger Tibetans are beginning to question the moderate anti-China political strategy of their spiritual leader.
"These flags symbolise hope but today we need more than that to achieve our goal," said India-born Kalsang Namgyal, a university graduate who has never set foot in Tibet, which his peasant parents fled in 1974.
The Dalai Lama has sought "meaningful autonomy" for Tibet since he quit his homeland for India following an abortive anti-Beijing uprising in 1959, nine years after Chinese troops invaded the Himalayan region.
The Dalai Lama will lead the exiled community in prayers on Tuesday and is expected to give a speech, while Tibetan groups plan rallies and protests to mark the day of the uprising.
Chinese troops entered the devoutly Buddhist region in 1950 to "liberate" it from feudal rule, according to Beijing, but Chinese control there remains widely unpopular.
Contacts between the Dalai Lama and Beijing were renewed in 2002, and since then China and envoys of the Buddhist monk have held eight rounds of fruitless talks on the question of autonomy for Tibet in line with a pledge Beijing offered in 1951.
"We have zero balance to show for all the efforts," said the 24-year-old Namgyal, one of some 100,000-plus Tibetan refugees in India.
Beijing has accused the Dalai Lama of seeking to split the predominantly Buddhist territory from China. But the Dalai Lama has repeatedly said he is only pursuing autonomy for Tibet.
West-backed Tibetan organisations began openly questioning the 1989 Nobel Peace Prize winner's approach after riots last March erupted in Tibet that  according to the Tibetan government-in-exile here left 200 protesters dead.
China says police killed one "insurgent" and blames Tibetan "rioters" for 21 deaths.
"For the last 50 years we have been living in India as exiles and there is some heartburn now," said Tenzin Norsang, general secretary of the influential Tibetan Youth Congress, which wants outright independence for Tibetans.
"Our patience began running out especially after last year's protests in Lhasa were brutally crushed," he said.
The rumblings of discontent prompted the 73-year-old Tibetan leader to shift gears and rachet up his opposition to China, but he has restrained himself from joining ranks with the pro-independence Tibetans.
"Patience is running thin both inside Tibet and outside Tibet," said B. Tsering, president of the powerful Tibetan Women's Congress, which has a worldwide network of thousands of activists.
Tsering insisted the pro-independence activists did not have any major issues with the Dalai Lama but like Norsang, she too criticised the Tibetan administration, which survives on Indian financial handouts.
"Various organisations are strongly advocating for Tibet's independence but they are losing patience because of China's response and not because of the Dalai Lama's approach," Tsering told AFP.
"But more and more people will soon come up with alternative strategies other than those of the Dalai Lama."
Follow Emirates 24|7 on Google News.