'Tough year' ahead in Afghanistan: US general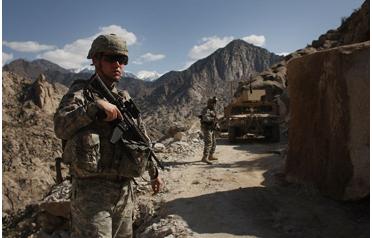 General David McKiernan, who commands US and NATO forces in Afghanistan, welcomed President Barack Obama's decision on Tuesday approving the deployment in coming months of 17,000 troops, increasing the current US force by about 50 per cent.
But he warned there would be no quick victory in the campaign against Taliban insurgents and that the United States would have to keep the higher level of troops in place for an indefinite period.
"Even with these additional forces, I have to tell you, 2009 is going to be a tough year," McKiernan told reporters at the Pentagon.
"There are the baseline problems of poverty, and literacy, and violence that have occurred over the last three decades in that country, so that's not going to turn around quickly," he said.
"But we do see, with these additional forces, an opportunity to break this stalemate, at least in terms of security conditions in the south," he said.
The general said Nato troops were training Afghan military and police but that it would take up to four years before the international force could hand over to the Afghans and have them take a leading role.
"For the next three to four years, I think we're going to need to stay heavily committed and sustain in a sustained manner in Afghanistan," McKiernan said.
The general said most of the additional forces would be used in the south, a region where security has deteriorated and where large areas remain without any Nato military presence.
Violence was likely to rise initially in territory where US forces set up outposts for the first time, he said.
"There are areas where we're not at today that, when we do put additional security forces, I would expect to see a temporary time where the level of violence might go up until we transition into holding and setting conditions to build."
McKiernan last year had requested up to 30,000 additional troops, which would nearly double the size of a US force that has grown to 38,000 troops.
The extra troops would be in place by the height of the fighting season this summer and before Afghanistan's national elections August 20, he said.
The general said he looked forward to the arrival of the US reinforcements "and to further contributions and commitment by the international community," though he did not say if any Nato allies had offered extra troops.
He spoke as US Defense Secretary Robert Gates was headed for a Nato meeting of defense ministers in Poland, where he was expected to push for more help from alliance members.
Gate's message will be that "more Nato support is needed", at least on the civilian side, citing police training and government reform, press secretary Geoff Morrell told reporters in Washington.
McKiernan said he had received the American troops he had asked for – two combat brigades plus support troops – to see the mission through the summer and the elections.
But he said he still had a request pending for another brigade to focus on the training of Afghan security forces. The decision whether to deploy those extra forces did not have to be taken until later in the year, he said.
McKiernan also said it was possible that more troops on the ground might mean Nato would not have to rely so heavily on air strikes, which have claimed numerous civilian lives and triggered resentment among Afghans.
US troops were working with Afghan and Pakistan authorities to tighten control over the country's porous border that has served as a haven for insurgents and the Al-Qaeda network, McKiernan said.
But he added his forces needed more hi-tech reconnaissance, a coveted resource that is subject to competing demands from the US mission in Iraq.
"We could use more IRS (intelligence reconnaissance surveillance) assets, not only along the border, but elsewhere in the country too."
Echoing a theme from President Barack Obama and military officials, McKiernan said that improving security would allow other development efforts to go ahead and that the conflict could not be solved by military means alone.
"I've always said that this will not be a military outcome. This will eventually be a political outcome. It will be decided by people that live in Afghanistan," McKiernan said.
Follow Emirates 24|7 on Google News.
The top US commander in Afghanistan on Wednesday predicted "a tough year" ahead in 2009 even with an additional 17,000 troops, saying the fight against insurgents had reached a stalemate in the country's south.