Troops struggle to rein in Haiti looters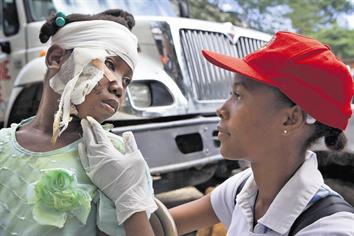 Troops struggled to control looters in Port-au-Prince a week after the earthquake which devastated Haiti, as rescuers still pulled babies and women from the rubble and kept alive hope of finding more survivors.

With the stench of urine and decomposing bodies still hanging over the capital, US soldiers moved onto the streets and UN chief Ban Ki-moon asked for 3,500 extra international troops and police to help protect relief supplies.

Thousands of homeless Haitians were prey to bands of looters swarming through the ruins of the capital, with the police and military officials tasked with protecting the homeless nowhere to be found.

Troops in combat gear fired off rounds and hauled some people to the ground to try to stop the worst of the pillaging.

Approximately 1,700 US troops were on the ground overseeing the aid effort and trying to provide security.

More than 2,200 Marines arrived on the USS Bataan, boosting overall US troop numbers to 7,000 either in Haiti or offshore, and US commanders have promised more than 10,000 personnel would be in the disaster zone in coming weeks.

The UN Security Council was expected to approve the UN chief's request for 3,500 more troops and police for the battered UN mission in Haiti. The UN building in Haiti collapsed following the earthquake.


US military starts food drops in Haiti

The US military has started airdrops of food and water to quake-ravaged Haiti, delivering some 14,500 meals and 15,000 litres of water to a site just outside Port-Au-Prince, the Pentagon said in a statement.

A US Air Force C-17 plane flew from Pope Air Force Base in North Carolina to a drop zone some 8km northeast of Port-au-Prince airport to deliver the aid.

The US military had been reticent to undertake aid airdrops out of concern of starting troubles on the ground, but said they were able to make the airdrop to "controlled drop zone" of where no people on the ground were endangered.

Haitian and US aid officials distributed the aid to quake survivors, the United States Defense Department statement said.
Keep up with the latest business news from the region with the Emirates Business 24|7 daily newsletter. To subscribe to the newsletter, please click here.
Follow Emirates 24|7 on Google News.