Tsunami waves hit Pacific regions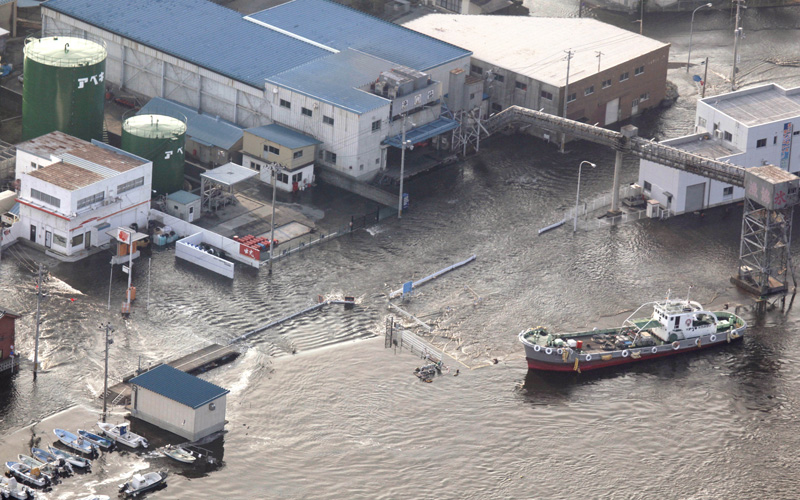 Tsunami waves of up to 1.5 metres (5 ft) hit far-flung Pacific regions from the Russian far east and Japan to New Zealand's Chatham Islands on Sunday after a massive earthquake struck Chile, killing more than 300 people.
Hundreds of thousands of residents in Japan, New Zealand, the Philippines and Russia's Kamchatka were told to evacuate after Saturday's Chile quake, one of the world's most powerful in a century, but there were no immediate reports of damage.
The Japan Meteorological Agency (JMA) put the country's highest tsunami so far at 1.2 metres in the port of Kuji, northeast Japan. Smaller waves hit a swathe of the country from the small island of Minamitori 1,950 km (1,200 miles) south of Tokyo to Hokkaido island in the north.
Japanese officials have ordered or advised some 570,000 households along the country's Pacific coast to evacuate and said it would be hours before evacuees could go home.
"The full-fledged tsunami waves are starting to arrive," University of Tokyo professor Yoshinobu Tsuji told NHK public TV.
"This is not the last one," he said.
It was Japan's first major tsunami warning in 17 years and only the fourth since 1952, the Japan Meteorological Agency said.
"Carelessness could be the biggest enemy," Prime Minister Yukio Hatoyama told reporters.
Train services were halted in many areas along the Pacific coast and many highways were closed.
Two nuclear plants in the area were operating normally and Japan's Nippon Oil Corp said its 145,000 barrel-per-day Sendai refinery was also functioning as usual.
Police cars and fire trucks patrolled coastal roads and fishing boats, seeking to avoid any tsunami, headed out to sea under gray skies, with snow flurries in some areas.
The area that could be hit hardest, where around 140 people died in a previous tsunami 50 years ago, has many small harbours that could concentrate the force of a tsunami.
"We experienced tsunami 50 years ago. But it sounded like it could be worse this time, so I was afraid," said 69-year old Fumiko Nakajima in a fishing town on the outskirts of Sendai.
She said the evacuation of residents, many of whom are elderly, went smoothly due to frequent drills.
NO STRANGER TO TSUNAMIS
TV footage showed elderly women with cloth-wrapped bundles on their backs gathering at evacuation centres as cars pulled up and other women unloaded shopping bags filled with belongings.
The tsunami warning covered the eastern seaboard of Japan, although for Tokyo Bay and many other areas the warnings were for waves of only around one metre (3 ft).
Japan is no stranger to tsunamis.
In 1896, a magnitude 8.5 earthquake and tsunami left more than 22,000 dead in northeastern Japan. Another of magnitude 8.1 hit the same region in 1933, killing 3,064.
In May 1960, a tsunami struck the coasts of Hokkaido and other northern Pacific coastal areas after an earthquake in Chile, killing around 140 people.
Since then, many harbours have had sea gates installed to try to protect from tsunami and storms.
"Coastal barriers have been built since the 1960 tsunami so we can't simply compare the situation with that time but it is still crucial that people evacuate,' said Masaaki Kubo of the Kamaishi Eastern Fishery Union in Iwate, in northern Honshu.
The first waves to hit New Zealand were reported at the remote Chatham Islands, around 800 kilometres (500 miles) east of New Zealand, with surges of up to 1.5 metres measured, the Civil Defence Ministry said.
A resident on one of the smaller islands in the group, Pitt, said the surges were continuing and getting bigger.
"The bay empties right out. It takes about a minute and a half and then it surges back in, in about the same amount of time," Bernadette Malinson told Radio New Zealand. "The surges have been getting bigger -- at least 2 metres at present."
Authorities in Russia's far eastern Kamchatka region lifted a tsunami alert after a series of small waves appeared to cause no damage, a spokeswoman for the Emergencies Ministry said.
A tsunami hit beaches in eastern Australian but there were not initial reports of damage.
Australia issued a tsunami alert for most of its east coast and eastern parts of the island state of Tasmania, but authorities said there were no concerns about major inundation.

Keep up with the latest business news from the region with the Emirates Business 24|7 daily newsletter. To subscribe to the newsletter, please click here.
Follow Emirates 24|7 on Google News.