Twelve held after China state TV complex blaze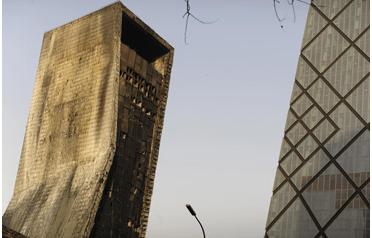 The 12 included a senior China Central Television (CCTV) official in charge of construction of the TV headquarters, the Beijing Times said. It did not say if anyone had been charged.
The fire began on Monday evening, caused by powerful and unlicenced fireworks put on by CCTV, destroying a 30-storey building just north of the spectacular, gravity-defying CCTV tower designed by Dutch architect Rem Koolhaas.
One fireman died and seven were injured.
The 30-storey building was home to the near-completed Mandarin Oriental Hotel, which had been due to open this year.
Pan Shiyi, chairman of property firm SOHO China, submitted a proposal to the Beijing People's Congress, a municipal rubber-stamp legislature, that a 2005 decision to lift restrictions on Chinese New Year fireworks in downtown Beijing be reversed.
Fireworks had made celebrations more lively but at the cost of serious dangers, nuisance, pollution and Beijing's reputation, he said.
"They are inconsistent with Beijing's image as a major international capital," he wrote in the proposal. "We ought to establish appropriate civilised standards for a modern capital."
Follow Emirates 24|7 on Google News.
Twelve people have been detained in connection with a huge blaze caused by unlicenced fireworks that partly destroyed Beijing's hypermodern state television and hotel complex, state media reported on Thursday.