Two-year-old girl contracts bird flu in China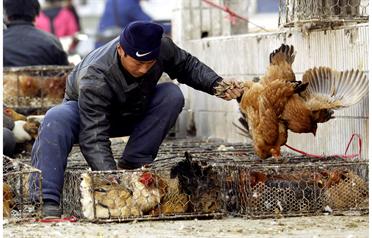 A two-year-old girl has been diagnosed with bird flu in northern China and is in critical condition, state media reported Sunday, just days after the nation reported a death from the virus.
The girl was hospitalised in Shanxi province on Wednesday and subsequently tested positive for the H5N1 strain of avian influenza, the Xinhua news agency said, citing provincial health authorities.
She had fallen ill in central China's Hunan province earlier in the month but had been taken to Shanxi by her grandparents, according to the agency.
Health authorities were monitoring an undisclosed number of people who had been in contact with the girl, but none had fallen ill so far, according to the agency.
Earlier this month, a 19-year-old woman died of bird flu in Beijing -- the country's first fatal case of avian influenza in nearly a year - after handling ducks she had bought in a market.
The death brought to 21 the number of people in China who have died of the virus since 2003. Another 10 contracted it but survived, not including the latest case.
Bird flu outbreaks tend to happen in the winter months, when low temperatures create more favourable conditions for the virus to spread.
Follow Emirates 24|7 on Google News.