US to maintain naval operations despite Chinese harassment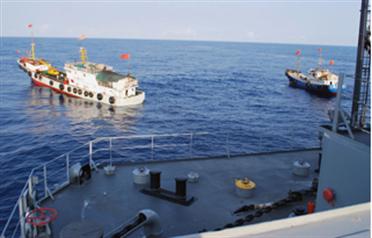 China accused a US naval vessel of conducting illegal surveying off southern Hainan island, a Hong Kong TV website reported on Tuesday, after the Pentagon said Chinese ships had harassed the vessel in international waters.
The United States urged China to observe international maritime rules after the Pentagon said five Chinese ships, including a naval vessel, harassed the US Navy ship in international waters. The Chinese vessels "shadowed and aggressively maneuvered in dangerously close proximity" to the USNS Impeccable, an unarmed ocean surveillance vessel, on Sunday, with one ship coming within 7.6 metres, a US Defense Department statement said. 
The tropical resort island of Hainan is the site of a Chinese naval base that houses ballistic missile submarines, according to independent analysts.
An unnamed spokesman for the Chinese embassy in Washington denied the Chinese ships had violated maritime rules and said US ships had been conducting illegal surveying, the website of Hong Kong-based Phoenix Television reported.  "The US claim about operating in high seas is out of step with the facts," the report quoted the spokesman as saying. "The U.S. navy vessel concerned has been consistently conducting illegal surveying in China's exclusive economic zone," the station quoted the spokesman as saying. "China believes this contravenes international laws of the sea and China's relevant laws." Chinese authorities had "repeatedly used diplomatic channels to demand that the US side cease unlawful activities in China's exclusive economic zone", the report added. The Chinese Foreign Ministry was unavailable for comment.
US defense officials said the incident followed days of increasingly aggressive Chinese conduct in the area, including fly-bys by Chinese maritime surveillance planes. It comes just weeks after the two sides resumed military talks, postponed in November after a US announcement of arms sales to Taiwan, a self-ruled island China claims as its own.  And it echoes a stand-off in 2001 between US and Chinese military forces after a US spy plane made an emergency landing on Hainan after a collision with a Chinese fighter jet. China released 24 crew after a US apology.
NO MAJOR FALLOUT TO TIES-ANALYST
The dispute is unlikely to do deep damage to Sino-US ties when both sides are grappling with the global financial crisis, but it suggests Beijing will take a tougher stance as its naval ambitions grow, said Shi Yinhong, an expert on regional security at Renmin University in Beijing. "The United States is present everywhere on the world's seas, but these kinds of incidents may grow as China's naval activities expand," said Shi. 
The Impeccable is one of five ocean surveillance ships that serve with the US 7th Fleet, which is based in Yokosuka, Japan. The ships use low-frequency sound to search for undersea threats including submarines, a US military official said. A US Defense Department spokesman said the Chinese vessels had surrounded the Impeccable, waving Chinese flags and telling the U.S. ship to leave. The Pentagon also described accounts of half a dozen other incidents dating back to March 4, in which the Impeccable and its sister vessel, USNS Victorious, were subjected to aggressive behaviour.
Oil jumped more than 3 per cent to $47 a barrel amid the naval incident between China and the United States and as dealers pondered the possibility of deeper production cuts by Opec. The incident coincides with two sensitive anniversaries in Tibet, making China especially sensitive to outside scrutiny of its affairs. It also comes as neighbouring North Korea says it is on full combat readiness in response to the start of annual military exercises by US and South Korean troops.
Analyst Shi said the seas off Hainan were important to China's projection of its influence with a modern naval fleet. "The change is in China's attitude. This reflects the hardening line in Chinese foreign policy and the importance we attach to the strategic value of the South China Sea." A recent study of China's rising power by a top People's Liberation Army thinktank said the country should seek to avoid confrontation with Washington but not shrink when pressed. "We don't want to stir up trouble, but nor will we fear it," said the study published last year by the PLA Academy of Military Science in Beijing. "Especially on core interests involving our country's national unity and territorial integrity, we must keep an actively enterprising stance, defying brute force and daring to flash our sword."   
WHAT DO YOU THINK?  Will the US-Sino conflict affect oil prices further? Have your say by posting a comment below, or emailing us at online@business24-7.ae.
Follow Emirates 24|7 on Google News.