Australia drops water bombs on raging bush fires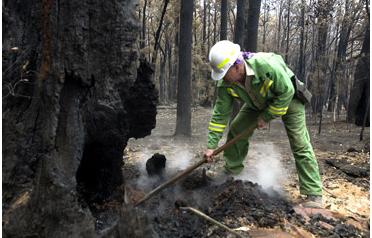 Wildfires are a natural annual event in Australia, but this year is one of the worst in living memory, a combination of scorching weather, a lack of rain and tinder-dry bush.
Local media have said it is a "once in a century heatwave" and among the worst in living memory.
Officials said said dozens of fires were blazing across the country's densely populated southeast, and police said at least one that hit Sydney's metropolitan area late on Friday had been deliberately lit.
As temperatures in Melbourne soared to 45 degrees Celsius on Saturday, a major fire east of the city had burned more than 160 hectares of parkland after jumping containment lines overnight.
Authorities warned nearby residents to be on alert and a Reuters photographer at the scene said aircraft were water-bombing spot fires that were breaking out ahead of the main front.
"It is extremely dry. We do have some concern about the winds picking up and having an impact on the fire," a spokesman for Victoria state's Country Fire Authority told Reuters.
An "urgent threat message" was posted for local communities to be prepared to be hit by fire. Threat notices were also issued for several other areas, while another fire which broke out in the morning was close to the main highway between Melbourne and Sydney.
In New South Wales, authorities said more than 40 fires were burning, with bushfire emergencies declared in several places. Smoke covered many areas of Sydney, which came under threat from two fires late on Friday.
ARSON SUSPECTED
Police blamed a fire that broke out in the inner-Sydney district of Lane Cove on Friday night on arson. The fire burnt several hectares of a national park within the Sydney metropolitan area, threatening nearby homes.
Researchers say around half of the bushfires in Australia are deliberately lit.
Another fire in the Wollemi national park, the home of the famous 'living fossil', the Wollemi pine, had destroyed 1,000 hectares of forest northwest of Sydney, a spokeswoman for the New South Wales state Rural Fire Service told Reuters.
"The fire is moving quite quickly," spokeswoman Rebel Talbert said, adding that a bushfire emergency had been declared there and aircraft with water bombs were trying to bring it under control.
Another blaze near the coast south of Sydney had jumped containment lines and was proving hard to control. Authorities in South Australia said they were tackling a fire near the southern community of Mount Gambier.
The heatwave has caused a spate of heat-related deaths, which has left morgues struggling to cope, while transport and power services have repeatedly broken down in the hot weather.
Tens of thousands of firefighters are on standby to cope with bushfire outbreaks, with authorities in Victoria warning Saturday's conditions could be worse than those that led to the deadly "Ash Wednesday" fires of 1983, which killed 75.
The temperature in the outback town of Ivanhoe in New South Wales state was forecast to reach 47 degrees Celsius on Saturday and temperatures above 45 degrees Celsius were reported from several areas.
The heatwave should not affect commodity crops such as wheat and sugar, which are grown predominately in western and northerneast Australia. 
Follow Emirates 24|7 on Google News.
Aircraft dropped water bombs on raging Australian bush fires on Saturday as a "once in a century" heatwave sparked dozens of blazes across the country.