Australia mulls second stimulus as economy cools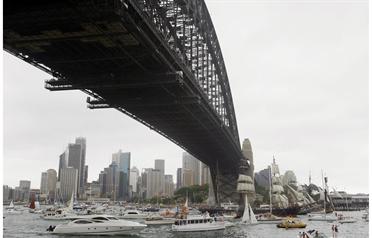 Australia's government is preparing a second economic stimulus and tax cuts, which could come as soon as next week, amid pressure from business to do more to jumpstart the stalling economy, reports said on Wednesday.
Finance Minister Lindsay Tanner said the government would do whatever was needed as Prime Minister Kevin Rudd began meeting state leaders to discuss their infrastructure needs and ways to stave off a now widely-expected recession.
"If you are seeking to loosen the purse strings to get more money flowing into ordinary economic activity, you can spend or reduce tax," Tanner told state radio.
Rudd has announced stimulatory spending worth A$36 billion ($23.8 billion) since October, including A$10.4 billion for families and pensioners and homebuyers, plus more than A$4 billion for road and port improvements to speed exports.
The government also promised at the weekend to share with local banks the cost of a A$4 billion fund to prop up commercial property developments should foreign lenders refuse to roll-over loans amid continuing international credit jitters.
Australia has been slower than other big economies to feel the brunt of the global financial crisis, having been buoyed by now-slowing Chinese demand for its resource exports.
DEFICIT LOOMS
But with Japan, Britain, Germany and the United States in recession, and governments around the world urgently throwing lifelines to ailing banks and consumers, the government increasingly sees the need for a second stimulus.
Economists said a run of national budget surpluses would also end with a likely A$40 billion deficit as business shed staff and joblessness rose to around 7 per cent by mid-2010, just ahead of national elections, from around 4.5 per cent now.
Rudd met with Queensland state Premier Anna Bligh on Wednesday to discuss the impact falling commodity prices would have on her state's A$187 billion economy, which is reliant on coal mining and tourism.
At least three of the country's six states are expected to slip into deficit this year, despite predicting surpluses as recently as June, before the full impact of the financial meltdown reached Australia.
They include Tasmania, South Australia and heavyweight New South Wales, which is home to a third of the 21 million population and a A$320 billion economy accounting for a third of national GDP.
Rudd and senior ministers would meet on Monday ahead of parliament to look at safeguarding jobs as business suggested immediate tax breaks for low-income earners in exchange for wage restraint, the Australian Financial Review newspaper said.
But the government saw problems with bringing forward tax cuts planned for next year as it would blunt their impact later on, the paper said. 
Follow Emirates 24|7 on Google News.