Australia wildfires flare as massive arson probe launched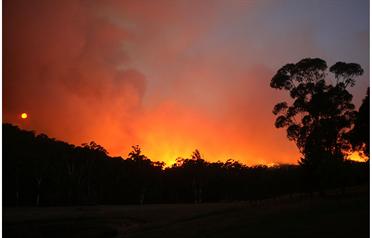 Australian firefighters battled Tuesday to save communities from wildfires that have already claimed 173 lives and left a trail of charred bodies in blackened homes and twisted car wrecks.
Police warned the toll, already the worst in the country's history, would continue to soar all week as investigators launched the country's largest ever arson investigation amid renewed flare ups.
"Road by road, house by house, we are working our way through," Victoria Police Chief Commissioner Christine Nixon said.
"We believe the toll will rise. It's a very sad thing for all of us in our community ... we hope towards the end of the weekend that the toll will start to settle in terms of numbers."
Nixon said a special task force involving 100 officers, dubbed Operation Phoenix, would investigate all aspects of the fires, including tracking down arsonists responsible for some of the blazes.
She said authorities were confident of arresting an arsonist blamed for starting and repeatedly reigniting fires in Gippsland, in Victoria's east, where almost 20 people have died.
Prime Minister Kevin Rudd has described the arsonists as "mass murderers" and Victoria Police Minister Bob Cameron said authorities were determined to catch them.
"The sooner that they're taken out of the community the better for everybody's sake," he told Sky News. "We now know the devastation that they've caused."
But exhausted firefighters, most of them volunteers who have had little rest since the firestorms flared on Saturday, had more immediate concerns as they tried to save communities in the path of the flames.
Healesville, about 50 kilometres (31 miles) northeast of Melbourne, was the latest community threatened by the fires, which razed entire towns over the weekend.
Victoria's Country Fire Authority warned the town was in danger from "heavy ember attack," a phenomenon that survivors who have faced it liken to a fiery hailstorm of burning embers raining down on them.
Further east in Gippsland, firefighters were trying to control a massive blaze stretching more than 100 kilometres.
"We've got about 135 kilometres (84 miles) of fire line and only a small proportion of that, about 12 kilometres, has been contained," Country Fire Authority incident controller Stephen Walls told reporters.
Australians, who have been transfixed by the tales of tragedy and survival to emerge from the disaster, have donated about 14 million dollars (9.1 million US) to a relief fund for the victims.
Red Cross chief Adam Dent appealed for them to keep the money coming in, saying some survivors had been left with only the clothes they stood in and entire communities needed to rebuild.
More than 5,000 people have been left homeless, many seeking shelter in community halls, schools and churches.
Some spoke of rebuilding but victims like Ross Buchanan can do little to piece together their shattered lives.
Buchanan risked his life to saved his home in Kinglake only to find his 15-year-old son McKenzie and daughter Neeve, nine, had been killed as fire ripped through the rest of the town.
"I've lost two kids, nothing can bring them back," he told Sky News.
Follow Emirates 24|7 on Google News.