Australian bushfires kill 14 but 40 feared dead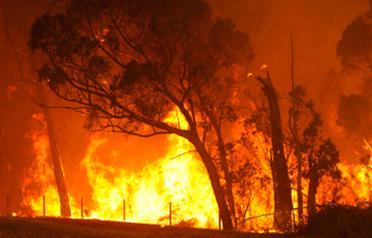 Australian bushfires killed at least 14 people in the southern state of Victoria on Saturday as a heatwave sparked more than 40 blazes across the state and neighbouring New South Wales, police said.
Victoria's deputy police commissioner Kieran Walshe said all the deaths were in a massive fire 80km north of Melbourne in rural towns -- six at Kinglake, four at nearby Wandong, three at Strathewen and one in Clonbinane.
The six killed in Kinglake were all in the same car, Walshe told reporters.
"This is an absolute tragedy for the state and we believe the figure may even get worse," said Walshe.
"We base that on the fact we're only just getting into these areas now ... to search buildings ... the figure could get into the 40s," he said.
The Victorian bushfire had burnt some 3,000 hectares of mainly national park earlier on Saturday, before it flared in the afternoon when a cool southerly change hit with strong winds fanning the fire into local towns.
Within hours the fire had burnt some 30,000 hectares, said local media.
Australia's worst bushfires occurred in 1983 when 75 people were killed in Victoria.
Peter Mitchell, a resident of the rural town of Kinglake northwest of Melbourne said the town had no time to act as the fire raced through.
"The whole township is pretty much on fire," Mitchell told Australian Broadcasting Corp radio.
"There was no time to do anything ... it came through in minutes. There'll be a massive loss of houses ... there'll be a lot of us homeless," he said.
"All those who have made it into town will be fine. The others will be sheltering and working on their fire plans, God help them."
Police said dozens of houses were destroyed in Victoria and local media said at least 100 homes had been burnt down in fires in the two states.
Australian fire officials advise residents to stay and defend their homes against bushfires, as most homes are damaged not by the actual firefront but by embers blown onto roofs. Evacuation is a last resort and fire officials warn residents to leave well before a firefront nears.
A Victorian fire official on Australia's Sky television said of those killed in Kinglake: "They were late evacuating and the worst place to be is on the road."
Wildfires are a natural annual event in Australia, but this year a combination of scorching weather, drought and tinder-dry bush has created prime conditions for blazes to take hold
"These fires are going to take days and days to get under control," said the Victorian fire official.
On Saturday temperatures in Melbourne soared to 46.4 degrees Celsius (115.5 Fahrenheit), the highest on record, local media said, with the mercury in the community of Laverton on the city's west hitting 47.9 C (118.2 F).   
Follow Emirates 24|7 on Google News.