Australian firefighters prepare for extreme wildfires to return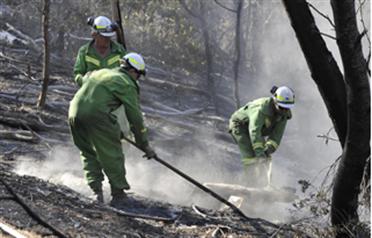 Firefighters are preparing for wildfire threats to southeastern Australia as weather forecasters warn of strong winds that could fan existing forest fires.
Country Fire Authority spokeswoman Sophie Jackson said Sunday crews plan to create containment lines around four major fires. Similarly intense winds fanned Australia's worst ever wildfires in early February when at least 210 people died.
A record drought in Victoria state has helped hundreds of wildfires devour more than 1.1 million acres of tinder-dry forest. Less than 4.6 millimeters of rain fell on the state capital Melbourne in January and February, breaking the previous dry period record set in 1893.
Follow Emirates 24|7 on Google News.