New arson attacks suspected as Aussie firefighters battle on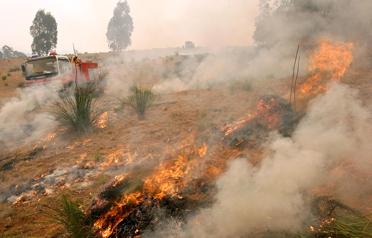 Australian police were investigating fresh arson attacks and looting Wednesday as survivors returned to towns devastated by wildfires that continued to burn across vast areas.
Victoria state Premier John Brumby said there was "little doubt" that several fires had been deliberately lit overnight in the state where at least 181 people -- and possibly more than 200 -- died on the weekend in blazes.
"I think words escape us all when it comes to describing that deliberate arson," he said.
State police commissioner Christine Nixon said officers were probing the reports of fresh attacks and that investigators were closing in on an arsonist blamed for lighting a fire in the Gippsland region, in the state's east.
As police continue the largest arson investigation in Australia's history after the weekend's massive inferno, firefighters raised concerns about looters picking through the remains of properties in the disaster zone.
"We have had some reports of looting and certainly some (firefighting) volunteers and citizens who have told us that they have seen strange people in their neighbourhoods," Nixon said.
"Part of the reason for blocking off access and only letting citizens in is to protect infrastructure up there."
Thousands of firefighters are battling to save communities still threatened by 23 wildfires raging across farms and tinder-dry bushland in southeastern Victoria state.
Country Fire Authority (CFA) Deputy Chief Fire Officer Steve Warrington said the Thompson Reservoir in the Upper Yarra Valley, a wine-growing region and major catchment for Melbourne city's water supply, could come under threat.
Fires near the rural towns of Bunyip and Kinglake could merge and threaten more towns if they are fanned by northerly winds forecast for Saturday, he said.
"We are closely monitoring the weather, which way the wind comes from, the speed of the wind and the temperature," Warrington told the Australian Associated Press.
"There is a huge effort going on minimising the impact of that fire as we speak," he said, adding that a gas plant at Longford was also in potential danger.
As a grim search for bodies was expected to push the toll much higher, stunned residents started being allowed through crime-scene lines to see for themselves what remained of their towns.
"The people are in complete disarray and shock and are being staunch, but small things will have a big impact on them," said CFA Divisional Commander James Dullard, referring to the fire zone around Kinglake town.
Victoria state Premier Brumby said the final toll would exceed 200 as emergency crews sifted through the charred wreckage of homes and cars, but media reports say police fear more than 300 people may have died.
In the town of Marysville, flattened by the flames at the weekend, as many as 100 of its 500 or so residents are now believed to have been killed, The Australian newspaper said -- a toll far higher than first reports suggested.
Victoria police have pleaded for survivors to be patient.
"The disaster victim identification team, operating primarily at Marysville and Kinglake, has a big job ahead of them. It's a very difficult process and will take a long time to identify the deceased," Assistant Commissioner Stephen Fontana said.
Prime Minister Kevin Rudd said the fires had left 500 people injured, nearly 1,000 homes destroyed and 365,000 hectares (902,000 acres) burnt.
More than 5,000 people have been left homeless, many seeking shelter in community halls, schools and churches.
Offers of help have poured in from around the world with leaders including US President Barack Obama telephoning Rudd to offer condolences and support.
Question time in the House of Representatives was suspended for the rest of the week in recognition of the disaster.
The only other time parliament has sat for a week without question time was during World War II, lawmaker Joe Hockey told AAP.
Follow Emirates 24|7 on Google News.