Police hunt arsonists amid deadly Australian wildfires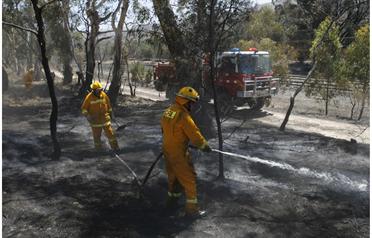 Amid the shock and grief over Australia's deadly wildfires, anger grew Monday as police hunted shadowy arsonists believed to have started some of the infernos that have killed more than 100 people.
Prime Minister Kevin Rudd described them as "mass murderers" and a state premier called them "terrorists," but who they are and why they do it remains something of a mystery -- even to experts.
"We think that bushfire arsonists are motivated by different reasons from other arsonists, like people who burn down buildings," National Australian University research fellow Damon Muller told AFP.
"Most arson tends to be motivated by things like revenge or financial reward -- insurance fraud, those sorts of things.
"But there is no real money to be made in bushfire arson so it doesn't tend to be financially motivated," he said.
Muller is also the author of a recent report for the government's Australian Institute of Criminology, which said half of the nation's 20,000 to 30,000 bushfires each year are deliberate.
"We think bushfire arsonists tend to be motivated by psychological motives -- there is something they get out of lighting a fire, some sort of psychological need is fulfilled by it," he said.
This might be a need for excitement, or recognition or control over their environment -- and for some it is the thrill of watching firefighters and emergency services respond to their fire.
Two people -- a 31-year-old man and a 15-year-old boy -- have been charged with arson after wildfires raged through southeastern Australia, killing at least 128 and destroying more than 750 homes, police said Monday.
Neither of the fires they are accused of starting in New South Wales state killed anybody, but police suspect arsonists were also behind some of the major blazes in neighbouring Victoria state, where all of the fatalities have occurred.
Victoria state police commissioner Christine Nixon said all bushfire areas  will be treated as crime scenes to determine if arson was involved.
"At this stage we have a team at the fire at Churchill, in the Gippsland Valley, which is certainly one that we believe was deliberately lit," Nixon said.
"Our fire experts and our own investigators have suggested that the way that it happened, how fast that it happened, that there is good evidence to believe that it was lit."
Forensic investigators have also begun work in the Kinglake area where more than 30 people died and  hundreds of homes were destroyed.
Prime Minister Kevin Rudd said Monday arsonists were guilty of mass murder.
"What do you say about anyone like that -- there are no words to describe it other than mass murder," Rudd said.
Arsonists, who took advantage of tinder-box conditions amid a heatwave and high winds, could face life in jail if they are convicted on murder charges, police say.
But Muller said one of the difficulties in dealing with bushfire arsonists is that a lot of them are never caught -- "so we really don't know a lot about them."
Bushfire arsonists who got their thrills from watching the efforts to control what they had started could do so from an armchair in front of the television, or by hanging around the firefighters themselves, he said.
Sometimes their obsession with fires leads them to try to sign up as volunteer firefighters, but the fire services are aware of this and have several screening mechanisms to keep them out.
The question of whether arsonists whose fires kill people felt remorse or pleasure was difficult to answer, Muller said.
"Some probably don't have a good understanding of the consequences of their own actions, but there are probably some also who don't have any real regard for their victims.
"Part of the thing with bushfire arson is that the offenders will be somewhat removed from the victims, they may not see the victims."
Follow Emirates 24|7 on Google News.