Residents flee renewed threat of Australian wildfires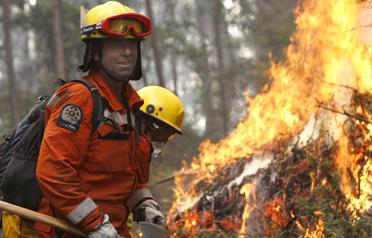 Residents fled their homes in Australia's fire-devastated Victoria state Monday as authorities predicted a resurgence of the blazes that killed more than 200 people earlier this month.
The deadly combination of strong winds and searing temperatures that fanned the worst fires the country has known are expected to return and drive flames toward towns east of Melbourne, the Country Fire Authority said.
The renewed threat came as Britain's Princess Anne visited the blackened townships north of the Victorian capital that bore the brunt of the firestorms that flared on February 7 and have claimed at least 209 lives.
Authorities set up an evacuation centre at Lilydale, a mere 40 kilometres (25 miles) from the heart Melbourne, ahead of a wind change forecast for later Monday.
More than 150 residents were sheltering in the centre, officials told AFP, and many more are believed to have left their homes to stay with relatives.
Shopkeeper Lindsay Jahn said up to 70 percent of the 2,500 residents in his town of Warburton had fled.
"The biggest issue for people has been trying to make decisions in time," Jahn told the Herald Sun online.
"I hope the tragic fires of two weeks ago have made people more decisive."
More than 3,500 firefighters are trying to control four major fires still raging in the southeastern state.
Officials say many of those who died in the wildfires that swept the region over the weekend of February 7 were trapped in their homes or perished in the mad rush to flee.
At Enoch Point, 80 kilometres east of Melbourne, the Country Fire Authority (CFA) warned residents to evacuate immediately if they did not want to defend their homes.
"Decide now if you are going to stay or go," it advised. "If you decide to leave in advance of the fire, then do so no later than this morning."
More than a dozen communities in the area were on high alert, and the CFA warned they may not receive any notification if conditions change unexpectedly in the volatile conditions.
A total fire ban was imposed across the state as meteorologists predicted temperatures would hit around 35 degrees Celsius (95 Fahrenheit) with northerly wind gusts of 35 kilometres an hour.
CFA spokeswoman Leith Hillard said conditions were some of the worst since the February 7 weekend.
"It is going to be a bit warmer and the winds are there, which they haven't really been in the last 10 days or so," she said.
Princess Anne, who travelled to Australia to represent Queen Elizabeth II at a national day of mourning staged Sunday, met volunteer firefighters at Wandong and was scheduled to visit bushfire survivors at an evacuation centre.
Firefighter Frank Amoroso said the visit was a morale boost for weary firefighters.
"It's a great honour for the people here to see someone from overseas here, especially from the Queen, to represent the Queen on her behalf," he told the Australian Broadcasting Corporation.
"So I think everyone's really overwhelmed by this."
The princess Sunday praised the "resilience, ingenuity, courage and selflessness" of the towns and individuals hit by the fires.
"People from around Australia and across the world watched in horror, but with admiration at their response," she said.
Follow Emirates 24|7 on Google News.