Brand Sharjah bets on its uniqueness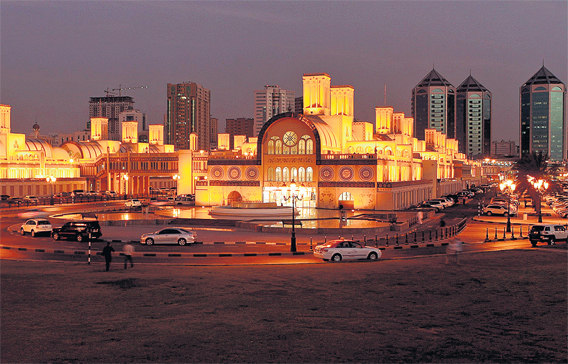 Time was when Sharjah was much better known globally than Dubai and Abu Dhabi, thanks to the international cricket matches it held on its grounds. However, over the years, Dubai and Abu Dhabi have overtaken and overshadowed Sharjah in the competition for hogging the limelight.
Emirates Business spoke to The Brand Union, which is doing the branding for Sharjah, to find out what the emirate is doing to get noticed and other branding companies to find out the importance of destination branding.
Tanita Sandhu, Executive Client Director, The Brand Union, said: "Some may claim that Sharjah has been overshadowed by Abu Dhabi and Dubai, but at the end of the day, it's what benefits the UAE as a whole. It's not a competition between the emirates; it's more important that they complement each other with the different offerings they provide to various investors, residents and visitors of the UAE."
However, other branding companies say that destination branding is important as countries and cities compete with each other at all levels. Destination branding is needed because there is a necessity to show the world that a certain destination exists and there is a need to fight in a competitive environment.
Peter Matthews, Group Managing Director, Nucleus, said: "Destination branding is important as it answers some simple questions that people around the world want to know, both from a tourist and investor perspective."
For example, a tourist from the West, who wants a holiday in the sun and is willing to try something in the East, will have a lot of questions on his mind. What's the unique selling point? How long does it take to fly there? Are there good hotels? These are essential questions and this is where the UAE, Oman, Jordan, India, and the Maldives will compete with each other and where the branding will help.
And, it is not only about tourists, it is also about investments, commerce and industry. How would foreign investors choose whether they should invest in the UAE or India? Once they narrow down on one country then the competition will be between the cities. If it is India, then will it be Delhi, Mumbai or Chennai? If the UAE, then will it be Dubai, Abu Dhabi or Sharjah? So, at the end of the day, it is all about perception.
Sandhu said: "The Sharjah Government has realised the importance of brand in the long term and that the brand is equal to reputation."
According to industry sources, before a country decides to brand itself it requires to do some introspection and ask itself why it wants to re-brand? What does it want to promote? What its ambition and vision are. Peter Matthews said: "The country must ask itself, what's the unique selling point of our destination? Who would be interested in us? Would people choose our destination for enjoyment or for business? What do we want to be famous for? The clearer the destination brand proposition, the better chance does the country or state have of attracting international interest."
Sandhu said: "Sharjah has been known over the years for preserving true heritage and culture, and continually sees the need to update this and find new ways of attracting people through the events they host such as the Heritage Village. Sharjah has been associated with culture for a very long time and has the foundation for it.
"We realised this by working with key brands in Sharjah that were looking for the next step forward and to continue to evolve, while maintaining their rich culture and heritage." Like any other brand, there are the challenges and the opportunities of branding a city. Branding a country or city is challenging as it means capturing all the complexities that make the place special and truly different from anywhere else; you can't brand everything and when it comes to marketing a place or destination, you need a clear point of difference and there is a lot of competition out there.
Sandhu said: "A campaign idea is great but you need to build long-term brand-driven growth – a reason to keep believing. You need to find that big idea – why is it so special and why should they care? Then, you need to beautifully craft this and ensure consistency through a differentiated and unique personality that will enable long-term brand value."
It is also vital to know how the country is perceived and also have enough keenly researched information before beginning the task.
Sandhu said: "Sharjah is known to focus on culture, heritage and knowledge. In 1998, Sharjah was crowned as the Cultural Capital by Unesco for its commitment to art, culture and preservation of its heritage with its 16 museums."
However, beyond the rational, there is an emotional factor, something about imagination and desire and it can influence the final decision.
Matthews said: "A lot of factors influence the branding. Where do I want to be after work? Do I want to live in the countryside or in the hustle and bustle of a metropolis? And here you realise that literature, films, fashion, everything feeds the destination branding."
Sandhu said: "For Sharjah, its USP has been carried across the different offerings to its residents as well as its visitors. Sharjah has been constantly trying to enrich its residents and visitors with culture, education and heritage. That is how it built and continues to build its position as the city of culture and heritage."
What Sharjah is focusing on
Sharjah International Book Fair: Translating and retaining the 28 years of rich heritage the book fair possesses while bringing a new energy and vibe to the brand to develop it.
Al Qasba: Combining modern Arabia with traditional values, into one experience and inviting residents and visitors to get involved with the various festivals it holds.
Family destination: Sharjah is clearly out to target the family market. Its media campaigns highlight the Sharjah Aquarium, Arabian Wildlife Centre and the Buhaira corniche with its watersport events and gondolas.
Cultural hub: Regular cultural activities in its 16 museum that include the Sharjah Museum of Islamic Civilisation, the Sharjah Maritime Museum and the Sharjah Calligraphy Museum to name a few.
Keep up with the latest business news from the region with the Emirates Business 24|7 daily newsletter. To subscribe to the newsletter, please click here.
Follow Emirates 24|7 on Google News.