China contains many paradoxes for women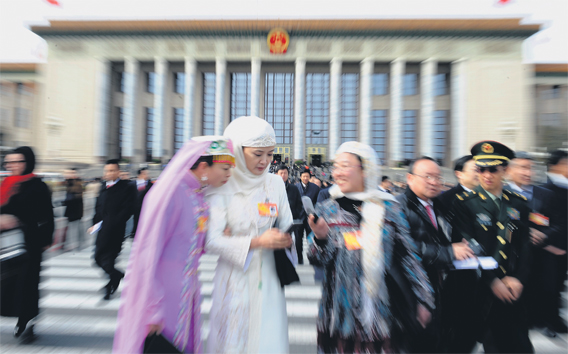 Chairman Mao famously said women hold up half the sky, but in today's China, the half that matters, the economy, often remains out of their reach.
Women make up the backbone of production-line workers in China's private, export-oriented factories, and gravitate to professions such as medicine, journalism and teaching.
But they have done less well in entering the centres of power – China's ruling Communist Party, and the giant corporations that form the core of the state-dominated economy.
At the annual meeting of China's parliament, the National People's Congress (NPC), and an auxilliary advisory body that both opened last week, women were very much a minority, especially female Communist Party members from the majority Han Chinese population.
"While there are a lot of women at all levels of politics, proportionally their numbers are small. This is because in the old feudal system there was no equality between men and women," said Guo Shuqin, a doctor from Hebei in north China attending as a parliamentary delegate. "I think it's very likely that in the near future we'll have a female president. I'm very hopeful that will happen."
One-fifth of Chinese NPC parlimentarians are women, higher than the 17 per cent of the US Congress who are women. But China's parliament comes under the firm thumb of the Communist Party, where real power lies. All nine members of the Party's top ruling body, the Politburo Standing Committee, who marked the 100th anniversary of International Women's Day yesterday, are men.
Chinese women's economic power and wealth are still lower than men's. They own 20 per cent of businesses, compared to a world average of 30 per cent, said Global Summit of Women President Irene Navidad.
In China, the ownership pattern of an industry is a good indicator of women's foothold in management. Conventions for the steel industry are full of men; by contrast, the lead smelting industry, with its higher ratio of small private firms, has many female bosses.
China's retirement age is five years earlier for women than for men, a situation that women would like changed, said Qin Bailan, an artist who belongs to the advisory body, the Chinese People's Political Consultative Conference (CPPCC).
"Because of the one-child policy, women have to spend less time on family, so they hope to be treated the same."
Modern China contains many paradoxes for women. The one-child policy freed many women from caring for large families but has caused pain for those who aborted children the law did not allow them to bear.
Keep up with the latest business news from the region with the Emirates Business 24|7 daily newsletter. To subscribe to the newsletter, please click here.
Follow Emirates 24|7 on Google News.