Arsonists target state power office in Greece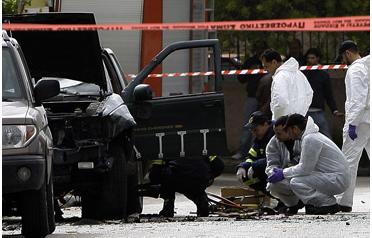 No injuries or arrests have been reported. Police say five corporation cars were destroyed and another three badly damaged in the attack early Saturday in the center of the northern city. The building was intact.
Police said a group of hooded and masked youths threw at least 15 incendiary devices made of camping gas canisters, as well as several petrol bombs.
Small anarchist groups frequently carry out arson attacks on symbols of state authority, banks and foreign diplomats' cars. Arrests are very rare. The attacks have escalated after the fatal police shooting of a teenager in Athens in December.  
Follow Emirates 24|7 on Google News.
Greek authorities say suspected anarchist arsonists have firebombed a main state power corporation office in Thessaloniki, burning eight cars parked outside.