Bank of England slashes rate to historic low of 1%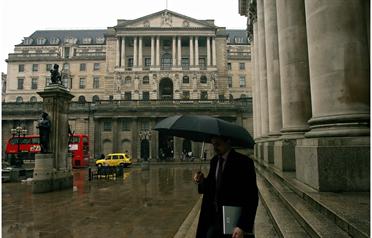 The Bank of England on Thursday slashed its key lending rate by half a percentage point to a record low of one per cent as it battles falling inflation and recession in Britain.
British interest rates remain at the lowest point since the bank was created in 1694 -- 315 years ago.
The decision, which was in line with expectations, came shortly before the European Central Bank froze eurozone borrowing costs at 2.0 per cent ahead of a likely rate cut in March.
"The global economy is in the throes of a severe and synchronised downturn," the BoE said in a statement explaining its move on Thursday.
"Output in the advanced economies fell sharply in the fourth quarter of 2008 and growth in the emerging market economies appears to have slowed markedly.
"Business and household sentiment in many countries has deteriorated. The weakness of the global banking and financial system means that the supply of credit remains constrained."
The British pound hit a two-week high of $1.4597 following the cut, while London's FTSE 100 index of leading shares was down 0.69 per cent at 4,199.39 points, clawing back some earlier losses.
"The market priced in a 0.5-per cent cut in interest rates so this announcement comes as no surprise," said Manoj Ladwa, senior trader at ETX Capital in London.
"Given the economic conditions, it is important that the Bank of England is seen to take decisive action but I doubt this cut to historic lows will have much effect," Ladwa added.
Lower interest rates traditionally lift economies because consumers pay less for loans -- but many lenders are refusing to pass on BoE rate cuts to their customers because of the ongoing credit squeeze.
The BoE's so-called "repo" rate -- at which it lends cash to commercial banks -- already stood at a record low 1.5 per cent after the bank had shaved off the same amount in January.
The bank said in a statement that its monetary policy committee "judged that there remained a substantial risk of undershooting the 2.0 CPI (Consumer Price Index) inflation target in the medium term at the existing level of Bank Rate.
"Accordingly, the committee concluded that a further reduction in Bank Rate of 0.5 percentage points to 1.0 per cent was warranted this month."
The BoE's chief task is to keep annual inflation close to a 2.0 per cent government-set target.
Policymakers are worried that a dramatic economic slowdown will push inflation below target -- and could even herald deflation or prolonged falling prices.
In such circumstances, consumers tend to postpone spending -- dampening economic momentum -- in hopes that prices will slide even lower.
Official data showed last month that the British economy sank into a deep recession in the second half of 2008, dragged down by the burgeoning global financial crisis.
British gross domestic product (GDP) shrank by 1.5 per cent in the fourth quarter of 2008 after a contraction of 0.6 per cent in the third. The fourth quarter figure was also the biggest fall in GDP since 1980.
So far, the relentless global credit crunch, which erupted in August 2007, has also dragged the United States, the eurozone and Japan into recession.
In reaction, the US Federal Reserve and the Bank of Japan have slashed their main interest rates to virtually zero.
For its part, the Bank of England has slashed rates for five months running from a level of 5.0 per cent in October.
Figures published last month showed 12-month inflation fell to 3.1 per cent in December from 4.1 per cent in November as energy prices crumbled.
The International Monetary Fund forecast last week that Britain would experience the worst economic slump among the major economies this year.
Follow Emirates 24|7 on Google News.