Britain's Brown falls further behind in polls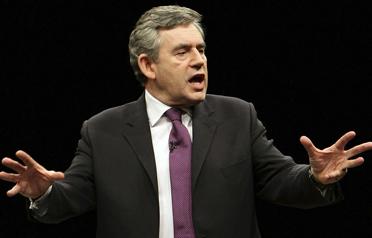 British Prime Minister Gordon Brown has slipped further behind the opposition Conservatives in an opinion poll on Tuesday and fewer voters are convinced he is the right leader to tackle the economic crisis.
The survey for the Times newspaper put his ruling Labour Party on 33 per cent, 10 points behind the Conservatives.
The Conservatives were up four points on last month, while Labour slipped two points, as did Britain's third party, the Liberal Democrats on 15 per cent, according to the Populus* poll.
The survey suggested the prime minister has lost some of the so-called "Brown Bounce", a boost in the polls that followed his handling of the financial turmoil last year.
With unemployment at a decade-high and Britain entering its first recession since the early 1990s, the economy will be a key battleground in the next election, due by May 2010.
Asked who was the right person to lead Britain out of the recession, those polled were split down the middle between Brown and the Conservative leader David Cameron. They both attracted 37 per cent of the votes.
Two months ago, Brown, a former Chancellor of the Exchequer (finance minister), was on 52 per cent, compared with Cameron's 32 per cent.
However, the poll put Brown and his finance minister Alistair Darling slightly ahead of Cameron and his shadow finance minister George Osborne as the right team to deal with Britain's economic problem.
The Labour pair received 38 per cent of the vote, compared with 35 per cent for the Conservative duo.
In an interview with the Sun newspaper, Brown defended his measures to bail out the banks and raise public borrowing and spending to try to avoid a deep recession.
"If we hadn't intervened in October the banks would have collapsed," he said. "The Conservative position, which is just to walk away, cut expenditure, cannot work."
Cameron accused Brown's government of acting like "headless chickens... confusing activity with action" and said he favoured a smaller, more frugal state over higher spending.
Speaking to the Financial Times, Cameron said his party was getting ready for an election at any time.
"A new version of the manifesto is being written. There is a team of very good people... it is well in production," he said.
*Populus interviewed 1,500 adults by telephone between January 9 and January 11
Follow Emirates 24|7 on Google News.