British PM slams strikers in EU workers row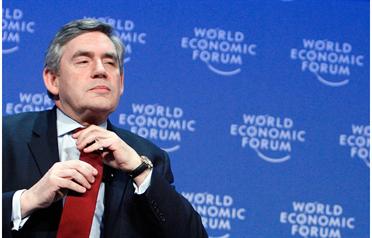 Prime Minister Gordon Brown branded wildcat strikes indefensible as he sought to defuse a row over foreign workers and stop industrial action spreading across Britain this week.
Brown urged strikers at Britain's third-largest oil refinery not to continue their action on Monday, after protests over the employment of Italian and Portuguese workers spread Friday to energy facilities nationwide.
In a BBC television interview to be broadcast Sunday, he also sought to explain his "British jobs for British workers" pledge, made in October 2007 that has been a focal point of the wildcat walk-outs.
European Union law enshrines the right to the freedom of movement for workers between member countries.
Brown said: "When I talked about British jobs, I was taking about giving people in Britain the skills, so that they have the ability to get jobs which were at present going to people from abroad, and actually encouraging people to take up the courses and the education and learning that is necessary for British workers to be far more skilled for the future."
Asked for his message to people considering wildcat strikes on Monday, he said: "That that's not the right thing to do and it's not defensible.
"Where there are jobs in this country, we need people with the skills, developed in this country, and that's why we're increasing apprenticeships during this difficult period.
"People are worried about what's happening to jobs in every part of our country.
"I'm determined that we take action early, so that jobs that can be saved can be saved. We've made some arrangements to do so. Where people lose their jobs, we help them back in to jobs as quickly as possible."
The dispute stems from French oil company Total's award of the contract to build a new desulphurisation unit at the Lindsey refinery in eastern England to Italian company IREM.
Around 100 Italian and Portuguese workers, living on barges in nearby docks, work there and are set to be joined by 300 more next month. Trade unions claim Britons were not given any opportunity to apply for the posts.
The government has asked ACAS, the body for resolving employment disputes, to investigate the facts quickly and report to the government, employers and the trade unions.
ACAS chief executive John Taylor said talks were at a preliminary stage.
"We've been getting in touch with interested parties at the Lindsey refinery site, with a view to establishing the facts behind the outbreak of unofficial industrial action," he said.
"We hope to start a more detailed investigation on Monday.
"We'll also be talking to employers and unions regarding a wider inquiry into the issues around 'contracting-out' on large construction projects."
Business Secretary Peter Mandelson, formerly the EU's trade commissioner, warned Saturday: "It would be a huge mistake to retreat from a policy where within the rules, UK companies can operate in Europe and European companies can operate here.
"Protectionism would be a sure-fire way of turning recession into depression."
Follow Emirates 24|7 on Google News.