Crisis ignites economic nationalism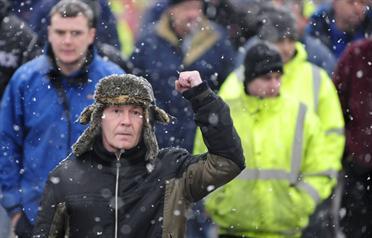 The global slowdown risks sparking violence and bolstering far-right parties, as manual workers turn against cheaper foreign counterparts, analysts and unions warn.
From energy plants in snow-covered Britain to the shops in Malaysia, workers from abroad are increasingly finding their presence under threat.
When the workforce at a British oil refinery walked out last month in protest at the use of Italian and Portuguese contract workers, it fired a warning to European bosses of heated disputes to come.
The wildcat strike at the Lindsey plant in Lincolnshire, eastern England, spread to 20 other oil and gas facilities and was only defused when a compromise deal was reached to give half the 198 jobs to British workers.
Unions voiced fears that organisations with a racist agenda were trying to hijack the protest to stir up feelings against the "imported" labour, as building projects are scrapped and jobs become scarcer.
"We're deeply concerned that other organisations are trying to latch themselves onto the dispute for their own reasons," said Derek Simpson, leader of the giant Unite union, who identified the anti-immigrant British National Party (BNP) as a particular concern.
Portuguese workers at the refinery were flown home amid fears for their safety, with some complaining that they had experienced racism from their British counterparts.
The refinery row prompted Britain's Business Secretary Peter Mandelson, the former European Union (EU) trade commissioner, to urge politicians and unions to focus on the economic issues, not "the politics of xenophobia".
The EU, with increasingly free movement of workers between its 27 member states but rapidly slowing economies, is fertile ground for rising resentment against foreigners willing to work for lower wages than local staff.
French historian Patrick Weil said the dispute in Britain could soon be played out in France.
"We could see the same sort of reaction in the months to come if European service companies bring over workers from other countries to carry out work," he told AFP.
Extreme-right groups have historically found support in areas of high unemployment and economic depression, turning the frustration of local workers into hostility against immigrants and even attacks.
Fascism took hold in 1930s Europe at the height of the Great Depression.
Klaus Doerre, a sociologist at Jena University in eastern Germany, said it was up to the mainstream political parties to prevent the far-right from capitalising on the issue of foreign labour.
"High unemployment does not automatically lead to right-wing extremism," Doerre said in an interview with AFP.
"But if the crisis lasts a long time and if unemployment increases strongly ... then there will obviously be a credibility gap (between voters and the traditional political parties) and the question will be whether this frustration can be exploited, either by the extreme-left or the extreme-right.
In Asia, countries with huge foreign workforces are seeking to give jobs back to the locals.
Malaysia has slapped a ban on new hirings of foreign workers in factories, stores and restaurants due to fears the economic crisis will lead to mass unemployment for locals.
In the United States, sentiment is hardening against an influx of skilled foreign labour as unemployment grows.
Anti-immigration and US workers groups have launched a television campaign in a bid to halt the entry of 1.5 million immigrants with H-1B visas, which are awarded to professional or skilled workers.
The Coalition for the Future American Worker (CFAW) says in the advert: "Last year 2.5 million Americans lost jobs... Yet with millions jobless, our government is still bringing in a million and a half foreign workers to take American jobs."
It concludes with the question: "Could your job be next?"
Doerre, the German sociologist, conceded that this was the fear driving hostility across the globe.
"There is a danger that the social classes who feel most affected, such as manual workers or manual workers with a specific skill, develop feelings of resentment towards immigrants," he said.
In France, where the leader of the right-wing Front National, Jean-Marie Le Pen was runner-up in the 2002 presidential elections, the economic woes have so far failed to ignite support for the party.
Francine Blanche, from France's CGT union, said: "There may be attempts by the far-right [to exploit the economic crisis] but for now, we haven't heard them, maybe it will come later."
She said unemployment among immigrants working legally in France was 22 per cent and they face strong discrimination in hiring practices.
But conversely undocumented workers were unaffected by the economic crisis.
"They have no problem finding work. But it's a very particular part of the labour market. They are not taking work from anyone else... and they are doing badly paid jobs in which they have to be so flexible that they are not in competition with other employees," Blanche said.
Follow Emirates 24|7 on Google News.