Europe extends flight bans into next week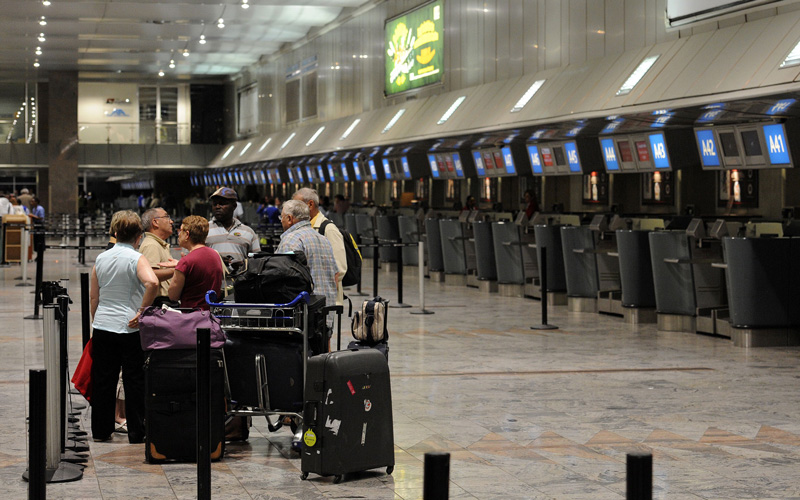 Millions of people faced worsening travel chaos Sunday as volcanic ash cloud from Iceland moved further south and east, forcing European countries to extend flight bans into next week.
France decided to shut the three airports in the Paris area and others in the north of the country until 8am (0600 GMT) on Monday due to the ash cloud that has caused the biggest airspace shutdown since World War II.
Italy also said it would not allow any flights in the north of the country until 0600 GMT Monday, while Belgium, Britain, Ireland and Germany shut their airspace until 1200 GMT Sunday.
Additionally, British Airways cancelled all its flights in and out of London on Sunday. Britain has extended flight ban until 1800 GMT Sunday.
Winds blowing the massive cloud eastward from Iceland to Russia will continue in the same direction for at least two days and could go on until the middle of next week, the Icelandic Meteorological Office said on Saturday.
"The ash will continue to be directed towards Britain and Scandinavia," Teitur Arason, a meteorologist at the Icelandic Meteorological Office, told AFP.
"That's the general situation for the coming days... more or less for the next two days or maybe the next four or five days," he said.
The volcanic ash cloud is heading towards Greece as it moves further south as well as east into Russia, Britain's meteorological group the Met Office said on Saturday.
Other European nations also moved to extend their flight bans, including Austria to 0000 GMT Sunday and Belgium to 1200 GMT.
Poland said it was shutting its airspace "until further notice".
The closure of Poland's airspace has stopped world leaders, including US President Barack Obama, from flying to the southern city of Krakow for Sunday's funeral of president Lech Kaczynski and his wife Maria.
The Kaczynski couple were among 96 people, most of them Polish dignitaries, killed in a plane crash in Russia on April 10 on their way to a World War II memorial service.
Some 17,000 flights in European airspace on Saturday were cancelled due to the cloud of volcanic ash, said Eurocontrol, which coordinates air traffic control in 38 nations.
Whereas a normal Saturday would see 22,000 flights in Europe, Eurocontrol said only about 5,000 were able to operate.
And out of 337 scheduled flights by US carriers to and from Europe, 282 were cancelled Saturday, according to the Air Transport Association of America.
The impact is likely to exceed the airspace shutdown after the September 11, 2001 attacks, the International Civil Aviation Organisation said.
With flights grounded all over Europe, stranded holidaymakers and business travellers sought any means possible to get home -- or contented themselves with just staying put.
"EasyJet has assured us that we will be reimbursed for accommodation until Wednesday" when the next flight is due out, said British holidaymaker Karen Apple at Faro airport in Portugal's Algarve region, the Correio da Manha newspaper reported.
"I don't know if I should file a complaint against the volcano," said a Spanish man at Madrid's Barajas airport who was trying to get a refund for his ticket to Frankfurt.
Iceland's Eyjafjoell volcano erupted on Wednesday, sending ash drifting towards Europe at an altitude of about eight to 10 kilometres (five to six miles).
Europe's three biggest airports -- Heathrow, Paris-Charles de Gaulle and Frankfurt -- were closed Saturday, leaving passengers stranded across the world as a global flight backlog built up.
An official for the Eurostar Channel tunnel rail service reported thousands more passengers than normal were set to travel on its trains between London and continental Europe on Saturday.
British businessman Tom Noble said he had to buy a women's bicycle to board a ferry home from France as the operator had no foot passenger tickets left and would only allow him on if he was a genuine cyclist.
Justifying the widespread airport closures aviation officials have explained that airplane engines could become clogged up and stop working if they tried to fly through the ash.
In the past 20 years, there have been 80 recorded encounters between aircraft and volcanic clouds, causing the near-loss of two Boeing 747s with almost 500 people on board and damage to 20 other planes, experts said.
The International Air Transport Association meanwhile has warned of the economic fallout from the volcano eruption in southeast Iceland.
According to their figures it was costing airlines more than $200 million (230 million euros) a day.
Follow Emirates 24|7 on Google News.