Europe shivers in winter chill, Britain expects more snow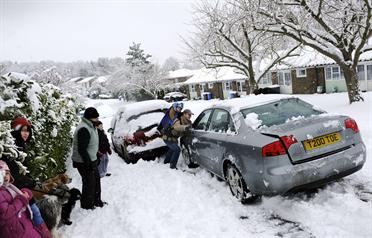 Europe was set to shiver through bitterly cold temperatures on Thursday, as Britain braced for more snow that has already caused chaos amid its most brutal winter in decades.
Millions of Britons were set for another day of blizzard conditions and crippled transport links that have already kept many away from work and knocked Britain's recession-hit economy hard.
London and the densely populated southeast will receive more heavy snowfalls, the Met Office forecast, as many businesses wait anxiously to see if their staff can make it in to work.
The forecasters said the cold spell was the worst since 1981 and warned of more to come. "Bitterly cold and wintry weather is forecast to continue for the next couple of weeks with further snowfall expected at times."
Much of the rest of Europe was also hit by the winter blast Wednesday, with freezing temperatures causing treacherous conditions and travel mayhem across the continent.
Norway was among the coldest countries, with temperatures in the central town of Roeros dropping to minus 41 degrees Celsius (about minus 42 Fahrenheit).
In the Netherlands, the ice was thick enough for the year's first skating event on natural ice, with up to 1,500 people expected to make the two-kilometre (1.2 mile) circuit on the Henschoter Lake in Utrecht.
In France two young people died in a road accident in Orne in the northwest and a Spanish bus driver died in a crash in the western region of Charente.
Dublin airport in Ireland closed, heavy snow at Amsterdam-Schiphol airport caused delays and cancellations, and there was chaos at London Gatwick as more than 400 flights were cancelled when snow closed the runway.
Meanwhile, torrential rain hit parts of Italy and officials feared the swollen Tiber River could threaten Rome in coming days.
In Britain, transport links across densely-populated southern and central parts of England were snarled up by the cold weather.
Eurostar cancelled four trains between London, Paris and Brussels as a precaution, just weeks after freezing temperatures caused three-day service shutdown in the run-up to Christmas.
Hundreds of schools were also closed and football matches were called off, including Wednesday night's League Cup semi-final between Manchester United and Manchester City.
The disruption also turned the spotlight on Britain's infrastructure services, as power companies said heavy snow on power lines had left about 5,000 homes without electricity in southern England on Wednesday evening.
The snow also brought out the nasty side in some -- police in Essex, southern England, said they had received scores of complaints about "anti-social snowballing."
One positive impact of the white-out was enjoyed by police in Manchester, northern England, who said they had caught a fugitive prisoner by following his footprints in the freshly-fallen snow.
Follow Emirates 24|7 on Google News.