German net borrowing for 2009 to hit record EUR50 billion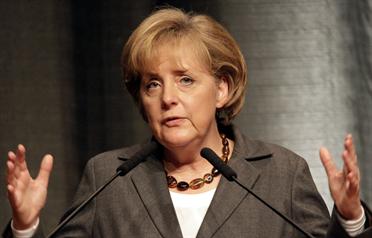 Germany's new net borrowing will rise to a record €50 billion in 2009 due to the economic crisis, a parliamentary leader in Chancellor Angela Merkel's Christian Democrats said on Sunday.
Even though the government will present a budget on Tuesday showing a €36.8 billion new borrowing requirement, senior CDU deputy Norbert Roettgen told ARD television that reports the actual new borrowing would hit €50 billion were accurate.
"Yes, that's true," Roettgen said when asked by ARD talk show host Anne Will if new borrowing would rise to €50 billion as German media and opposition political leaders have forecast.
"We're in an emergency situation," said Roettgen, who later mentioned the figure could be as high as €56 billion before stating the Finance Ministry would present its new borrowing figures on Tuesday.
"The worst thing to do now would be to try to save money. We need to invest wisely but not squander money away. We want to try to help stabilise the situation in the crisis."
The Finance Ministry said Merkel's cabinet will approve a doubling in new net borrowing to 36.8 billion euros on Tuesday, but added the total will rise further by an unspecified amount.
A Finance Ministry spokeswoman said the new figure of €36.8 billion does not include an additional amount of €21 billion earmarked for a government stimulus package over two years earmarked to battle the sharp economic downturn.
"Those funds will obviously raise the overall new borrowing further, but no one can say at this point by how much," she said, dismissing reports borrowing could hit €50 billion.
The package, which combines new investments in infrastructure, is meant to shield Europe's largest economy from what threatens to be its deepest recession since World War Two.
A leader of the opposition Free Democrats, budget expert Otto Fricke, told Reuters he expected the 2009 new borrowing to be far higher than €36.8 billion.
"If you add everything together we'll be somewhere between 50 and 60 billion euros," he said.
Fricke, chairman of parliament's budget committee, accused the government of trying to disguise what will be a record for new borrowing by not including the extra stimulus spending.
The previous record for government net borrowing was set in 1996 with €40 billion. Finance Minister Peer Steinbrueck had hoped to achieve a balanced budget in 2011 after new net borrowing was reduced to €11.5 billion in 2008.
A parliamentary source told Reuters on Saturday the cabinet will approve added borrowing with an accompanying justification that the overall economy has been knocked out of balance.
The constitution allows a government to borrow more than it spends on investments only if the economy is out of balance.
In November, the government first raised its 2009 borrowing estimate to €18.5 billion, but that was before a second stimulus package over two years was agreed this month, estimated at about €50 billion.
In addition to higher new borrowing in 2009, the source said the government expects tax revenues to be €233.2 billion in 2009, or €10.9 billion less than previously forecast. Investment spending will rise 1.5 billion to 28.7 billion.
The government had said it expects to keep its deficit below the EU limit of 3 per cent of gross domestic product (GDP) this year, but will surge above that in 2010.
Steinbrueck sent a 40-page letter to fellow ministers urging them to look to ways to save costs in order to limit the new borrowing, Handelsblatt newspaper will report on Monday.  
Follow Emirates 24|7 on Google News.